What's the sizzle about a 5 Health Star Rating?
You may have heard of something called the Health Star Rating – a system developed by the New Zealand/Australian government in collaboration with public health experts, nutritionists, food industry representatives and consumer groups to try and help you choose healthier foods from supermarket shelves.
The idea is that the Health Star Rating can be used to compare the nutritional content of similar types of products within the same category to help you select the healthiest one for you.
The more stars a product has (from half a star to a maximum of 5), the healthier the product is said to be. The Health Star Rating is calculated according to a complex set of criteria.
Firstly, baseline points are calculated according to the amount of energy, saturated fat, salt and sugar within the product. The lower your points are from this, the better in terms of a Health Star Rating.
Next, additional or modifying points are given to products that contain fruit, vegetables, protein, legumes and fibre.
As these are highly nutritious foods and nutrients, the more a product contains of these the more points it will receive here. More points are a good thing in this case.
The final Health Star Rating is calculated by your baseline point score minus your modifying point score to give a total which corresponds to a star rating.
After all of this, the good news is that Pic's Peanut Butter (as you would assume) has come out with a nutritious 5-Star Health Rating! Here's why:
Energy (fewer points are best): The energy content of Pic's Peanut Butter is 2488kJ per 100g which meant we scored 7 points out of a possible 30 in this area. As delicious as it is, we do recommend portion control folks, so remember that ideally, we'd eat peanut butter in small amounts (1-2 tablespoons per day = 15-30g). When you do have one tablespoon of peanut butter, it contains about the same amount of energy as you'd find in one banana
Saturated fat (fewer points are best): The saturated fat content of Pic's is only 6.3% which means it received 6 points out of a possible 30. The majority of the fat found in Pic's Peanut Butter is heart-healthy monounsaturated fat coming from Oleic acid. Oleic acid helps to reduce dangerous LDL-cholesterol levels and the amount of fat we carry in our blood which means Pic's is great for our heart health.
Salt (fewer points are best): Pic's Peanut Butter contains only 180mg of sodium per 100g which came out at 2 points out of a possible 30 under the Health Star Rating criteria. A high sodium intake, particularly from packaged foods, contributes to high blood pressure which is detrimental to our health. The fact that Pic's contains very little sodium is one reason why we scored such a high Health Star Rating. Great news for us all!
Sugar: The sugar content of Pic's Peanut Butter comes from completely naturally occurring sugars. As you know, our peanut butter only contains two ingredients – peanuts and salt. The peanuts are a given but you can get it without salt if you so wish. Excess sugar in the diet provides surplus energy which is thought to contribute to increasing levels of overweight people, obesity and diabetes within our population. Pic's low sugar content meant that we only received 1 point (out of a possible 22) with 0 being the best score, so you can be happy that Pic's is a great choice if you're looking to reduce your sugar intake.
Legume content (more points are best): Products that contain a high proportion of nutritious fruits, vegetables, nuts or legumes receive greater points in this area. Given that peanuts are a legume and Pic's Peanut Butter contains greater than 99% peanuts, we scored a whopping 7 points out of a total of 8 in this area. Legumes offer an array of health benefits as they are rich source of protein, fibre, vitamins, minerals and antioxidants.
Fibre: While peanuts are a legume, because they contain a nutrient profile similar to nuts, they are referred to in the same light as nuts because they offer similar health benefits and taste profiles. One of these benefits as mentioned above is the high fibre content of peanuts and Pic's Peanut Butter. With 7.5% fibre, Pic's helps to support a healthy digestive system. Foods rich in fibre are also highly satisfying which mean they help to keep you feeling fuller for longer so you are less likely to snack on less nutritious foods later on in the day. This in turns helps you to maintain a healthy body weight, so it's a win-win for optimal health and another reason why we scored so well under the Health Star Rating criteria.
Protein (more points are best): Peanuts are high in protein and as a result so is Pic's Peanut Butter! Comprising 26.7% protein. This is great news for our health, as foods rich in protein provide much-needed amino acids for the building and repair of lean muscle tissue. The more muscle tissue we have in our body, the more energy we can burn through each day, even at rest. This is a good thing as it helps us to maintain a healthy body weight.
With all of this nutrient-packed goodness crammed into our star-topped jars, we couldn't be more chuffed with our 5-Star Health Rating. It's another wonderful reason to enjoy a bit of Pic's Peanut Butter on a daily basis.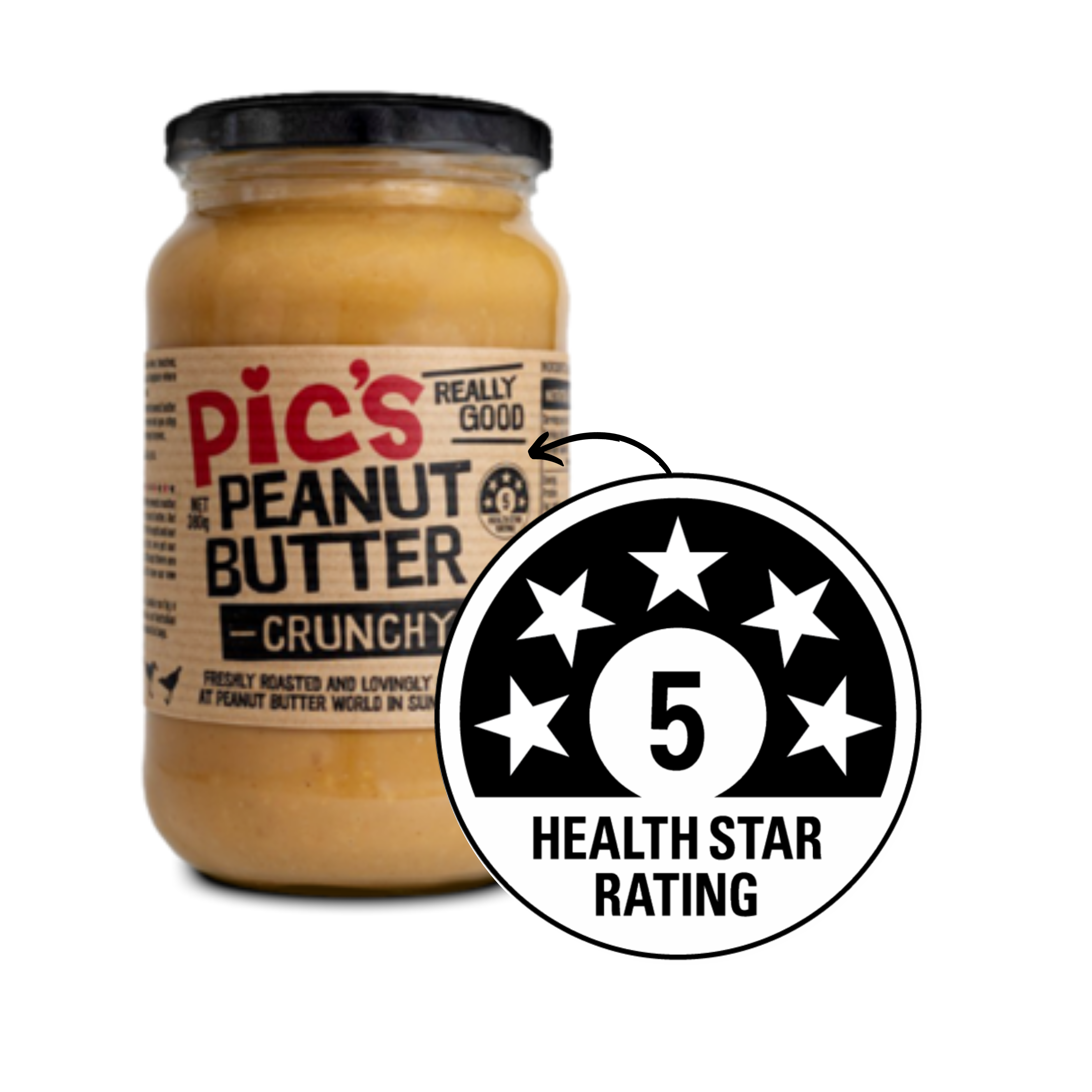 What are Hi Oleic peanuts?
Pic's Peanut Butter is made using only the finest Hi Oleic peanuts (so-named after their particularly high levels of oleic fats!). These originated from a strain of peanuts first bred in the United States by a grower called Al Norden, who noticed their special traits when developing peanut cultivars in 1969.
This strain was later crossed with a commercial Runner varietal to produce the Hi Oleic SO95R variety. In 1995, the Peanut Company of Australia imported a handful of these seeds into Australia, testing them for seven years before making available to Queensland peanut farmers.
The main difference between Hi Oleic peanuts and 'standard' ones is the makeup of their oil. All peanuts contain the same kinds of fats, but in Hi Oleic peanuts, the proportion of good fats is far higher than in standard peanuts.
In our Hi Oleic peanuts, 81% of the total fat is monounsaturated, while this value is just 54% in regular peanuts.
This means that Hi Oleic peanuts are not only healthier, but they also stay fresher for longer and they have a bit of extra crunch!
Source: Ref. SS-AGR-91, Agronomy Department, Florida Cooperative Extension Service, Institute of Food and Agricultural Sciences, University of Florida. Revised June 2003.