The backstory
When Pic first discovered that there was sugar in his beloved spread, he had an epiphany - make the stuff himself.
"It was beautiful! A million times nicer than the stuff I was used to," Chief Peanut Butter Maker, Pic Picot said.
We may not be using a concrete mixer or be in Pic's garage anymore, but we're still in sunny Nelson and still practice our craft the way Pic started.
INgredients
There are up to two ingredients in our peanut butter. Peanuts, and sea salt. You always get the peanuts, the salt you get if your jar doesn't say NO SALT.
Having tasted peanut butter from all over the world, we know our peanuts are special. We use only the finest Hi Oleic peanuts, sustainably grown by farmers in Australia, Brazil, Zambia, and Nicaragua.
Peanuts are delicious and have some pretty phenomenal health benefits, containing more good fats than regular peanuts, more like your avocado and olive oils, as well as a hit of plant-based protein and dietary fibre.
With a 5 Star Rating, you know it's really good for you too! Read more about what that means for you and your peanut butter of choice here.
Expert peanut butter makers
Our Peanut Butter Makers know their peanuts!
We take only the best peanuts, expertly roast them right here at Peanut Butter World in our great big roaster (we call her Roasting Matilda) and then lovingly squash them straight into your jar - once for crunchy, twice for smooth. That's it! No nasties or weird stuff.
We're dedicated to making Really Good peanut butter that's made for more than just spreading on toast.
Smooth or crunchy?
Our crunchy isn't like other crunchies, which tend to be smooth peanut butter with chopped peanuts. It's a mouth-filling textural adventure, thousands of peanut pieces, from the size of the finest grains of sand to bits as big as a grain of rice.
If you like it slinky, then our smooth is the one for you. We double squish our peanuts releasing all the oils and giving you a spoonful of intense nuttiness. Pic has recently adopted smooth as his favourite, because of Slugs (30g take-anywhere sachets of peanut butter).
But we're equal opportunity Peanut Butter eaters - crunchy on stuff and smooth in stuff. It means you have to have a jar of both in the pantry.
MADE AT PEANUT BUTTER WORLD IN SUNNY NELSON, NZ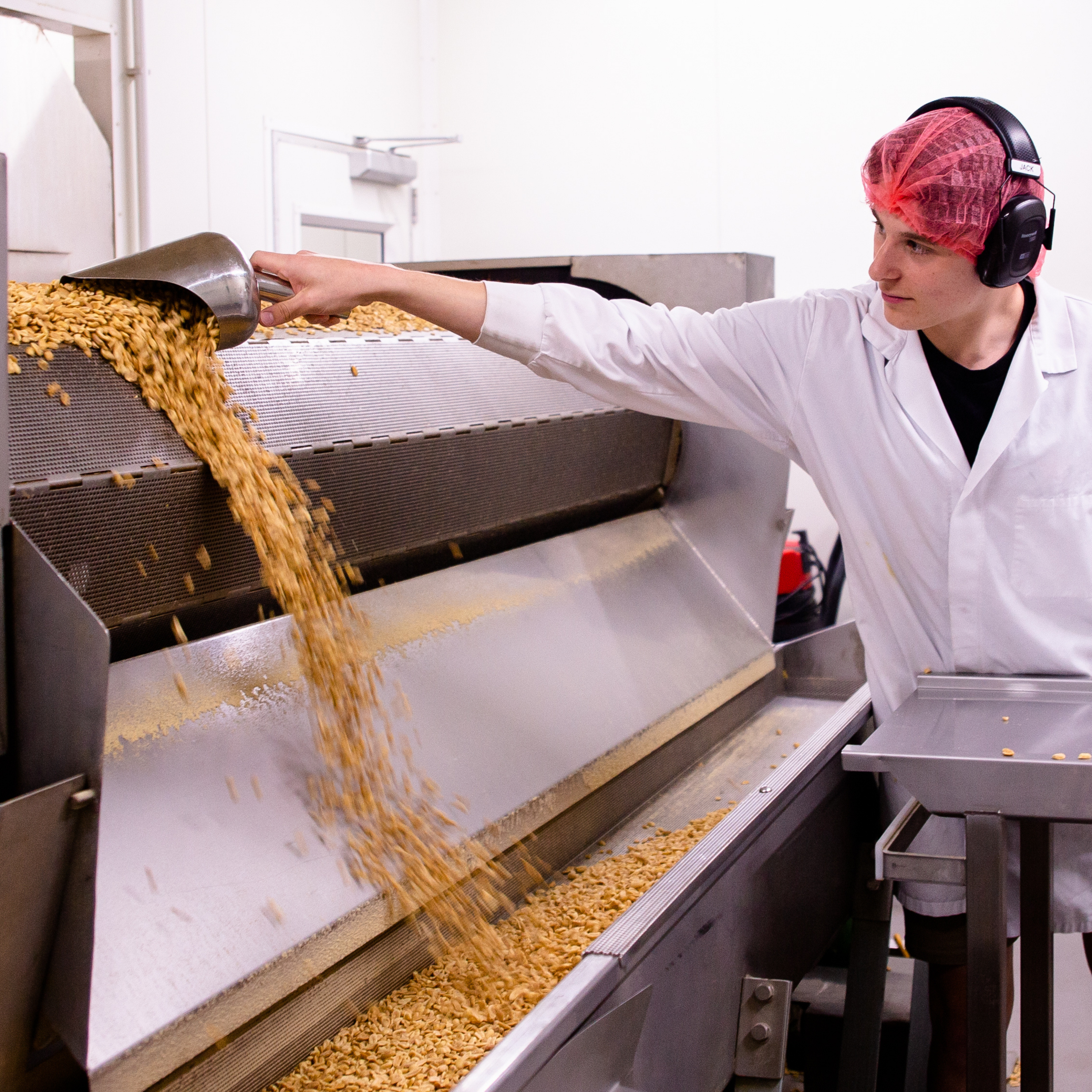 Fresh Roasted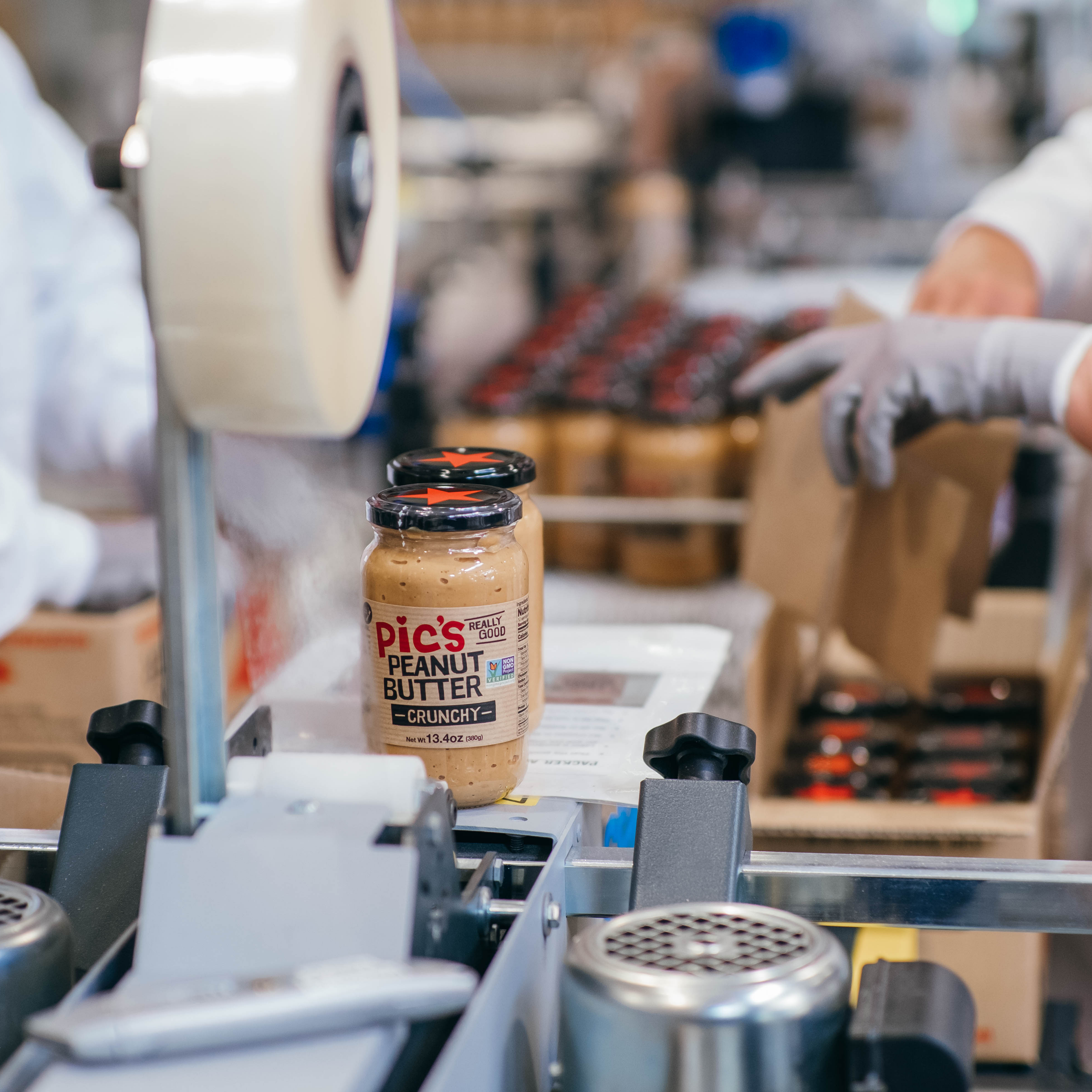 Squished & jarred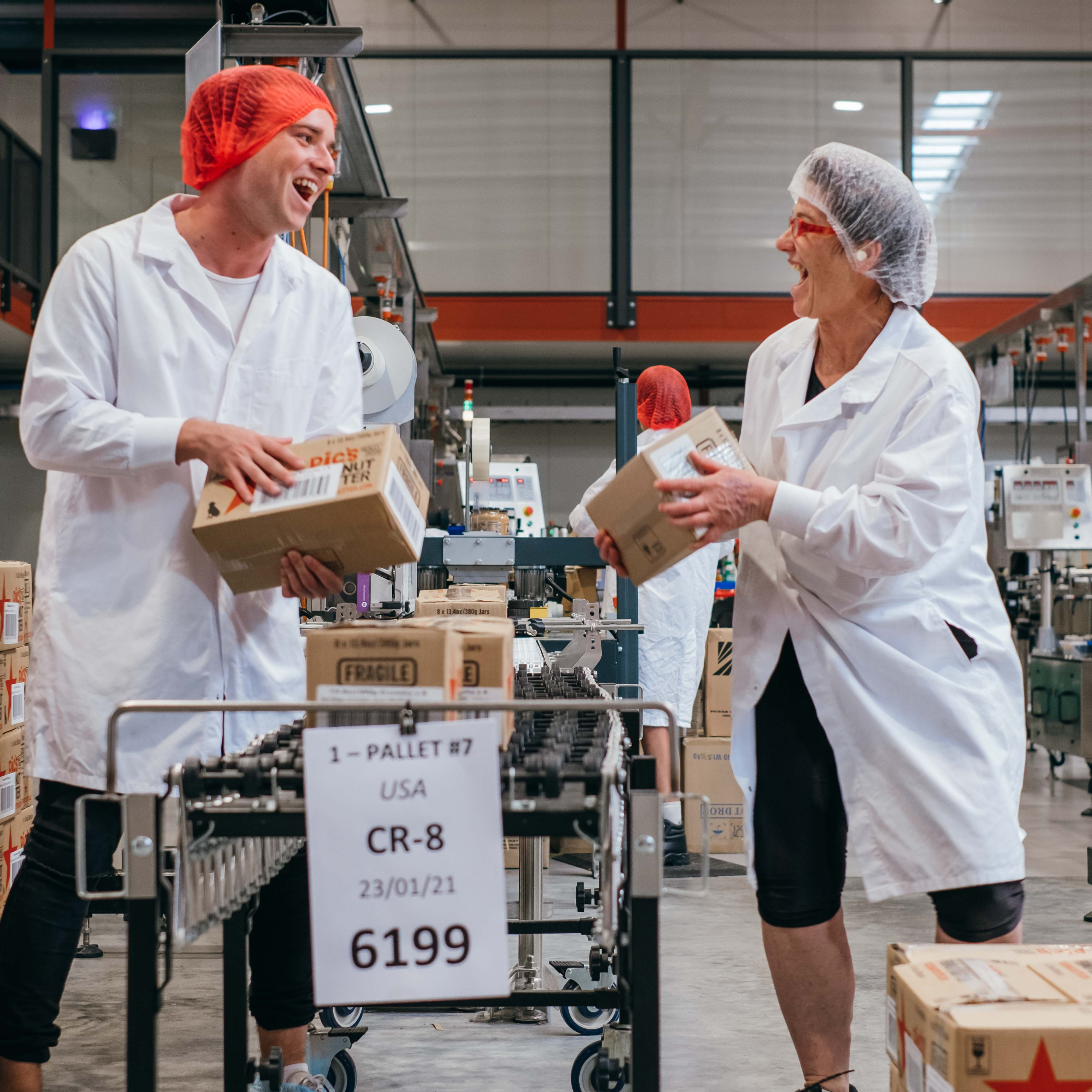 Boxed & sent!
Our Peanut Butter comes in all shapes and sizes
Slugs, the take with you anywhere sachets of smooth goodness
The classic 380g glass jar is available in salted and unsalted
1KG PET, it's big and you'll normally find it on the bottom shelf at your supermarket
2KG glass jar, she's a rare one and in a wooden box! Only found at Peanut Butter World and NZ food shows
And buckets of the stuff! BUT, they're only on our website, at Pic's Peanut Butter World and in trade stores such as Trents or Gilmours
PIC'S IS WAY MORE THAN JUST SOME BREAKFAST SPREAD.
Bake with it - cakes, muffins, banana bread, cookies, slices...
Blend it in your morning smoothies
Drizzle over your oats, ice cream, or pancakes
The perfect base for a satay sauce
Check out our recipes for more delish Peanut Butter inspiration!
Pic's Peanut Butter Tips
Storage: Lid closed in the pantry
Care: MIX ME UP! Contains no emulsifiers - over time, peanut oil will head for the surface and peanuts will dive for the bottom.
Stir contents well before use