The backstory
When Pic first discovered that there was sugar in his beloved spread, he had an epiphany - make the stuff himself.
"It was beautiful! A million times nicer than the stuff I was used to," Chief Peanut Butter Maker, Pic Picot said.
We may not be using a concrete mixer or be in Pic's garage anymore, but we're still in sunny Nelson and still practice our craft the way Pic started.
INgredients
There are up to two ingredients in our peanut butter. Peanuts, and sea salt. You always get the peanuts, the salt you get if your jar doesn't say NO SALT.
Having tasted peanut butter from all over the world, we know our peanuts are special. We use only the finest Hi Oleic peanuts, sustainably grown by farmers in Australia and Brazil.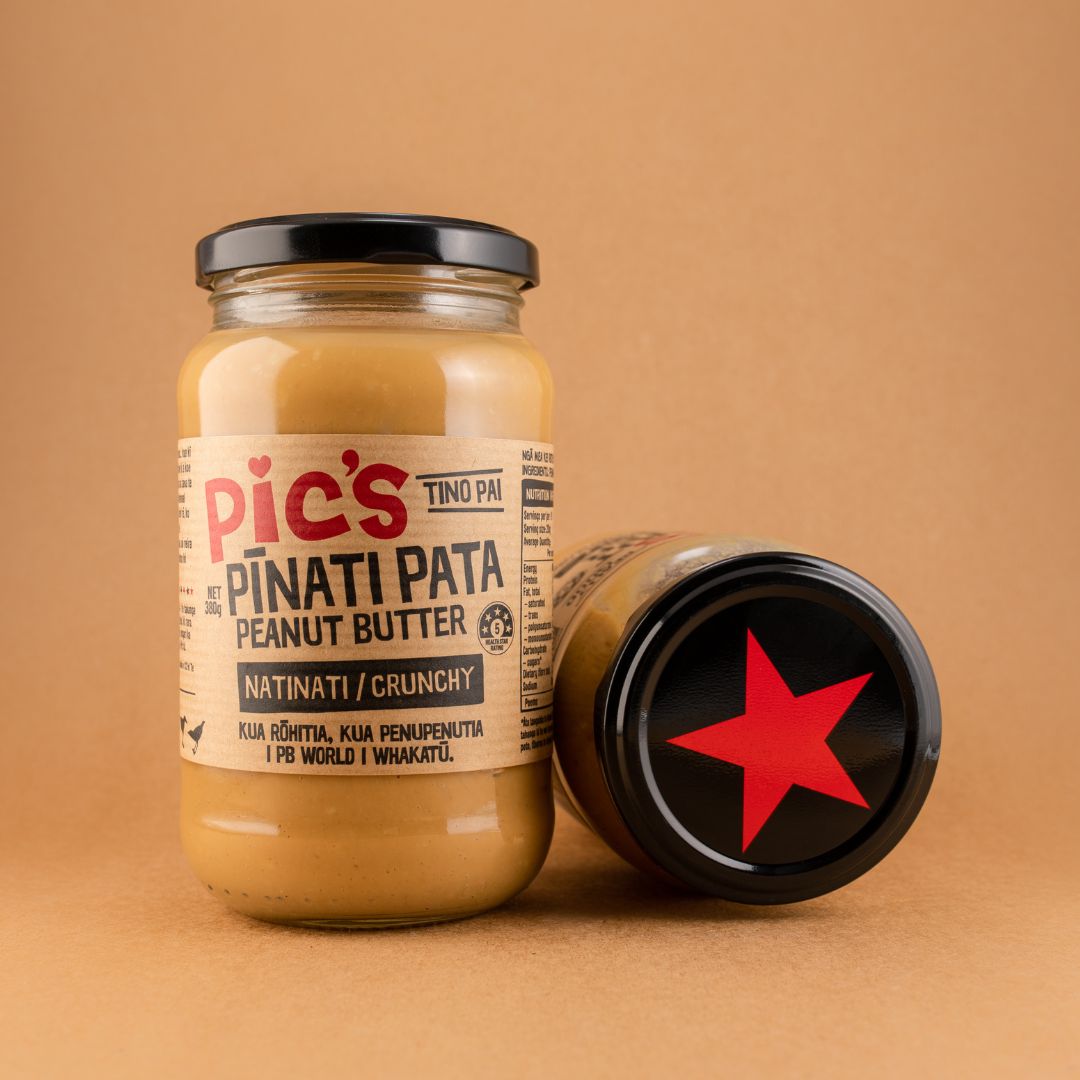 Good health and wellbeing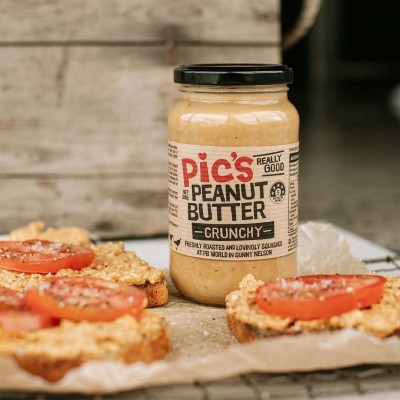 Peanuts are nutrient-rich, containing more than 30 vitamins and minerals, notably, vitamin E, copper, and folate.
They also contain 26g of protein per 100g. Hi Oleic peanuts go one better than their non-Hi Oleic counterparts as they offer 25% more good fats.
It stands to reason that peanut butter made with only the very best Hi Oleic peanuts – and, for those who want it, a sprinkling of local sea salt – is about as healthy a product as you can get.
If you really need more convincing that our peanut butter is healthy, try comparing our labels with those of our more-processed competitors. Our list will never contain words you can't understand!
The great debate: Smooth or crunchy?
Our crunchy isn't like other crunchies, which tend to be smooth peanut butter with chopped peanuts. It's a mouth-filling textural adventure, thousands of peanut pieces, from the size of the finest grains of sand to bits as big as a grain of rice.
If you like it slinky, then our smooth is the one for you. We double squish our peanuts releasing all the oils and giving you a spoonful of intense nuttiness. Pic has recently adopted smooth as his favourite, because of Slugs (30g take-anywhere sachets of peanut butter).
But we're equal opportunity Peanut Butter eaters - crunchy on stuff and smooth in stuff. It means you have to have a jar of both in the pantry.
How Pic's Peanut Butter is made
The peanut farmers kindly de-shell, de-skin and pre-blanch the peanuts before they ship them, which not only makes shipping them more environmentally friendly but also makes freight more affordable and we can pass that saving on to our customers.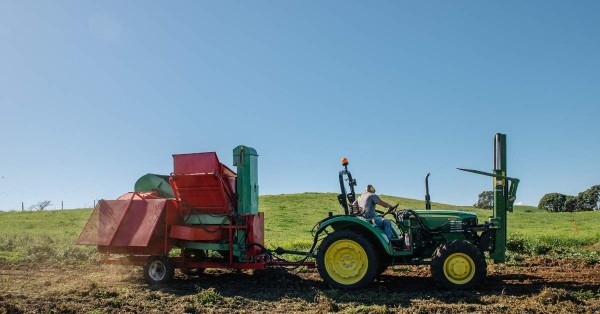 We used to get pre-roasted peanuts from Queensland in 10-kilogram sacks, but now we roast our own. When the peanuts arrive at our factory, they're ready to roast. Bags from Australia are 800 kilograms each, and the ones from Brazil are 1.3 tonnes!
When the bags come in, they're emptied into a hopper, which then drops the peanuts onto a conveyor belt that takes them up into our purpose-built oven — Roasting Matilda. Named by our very own Picsters, Matilda is 12 metres long and she's been getting our peanuts toasty warm since 2016.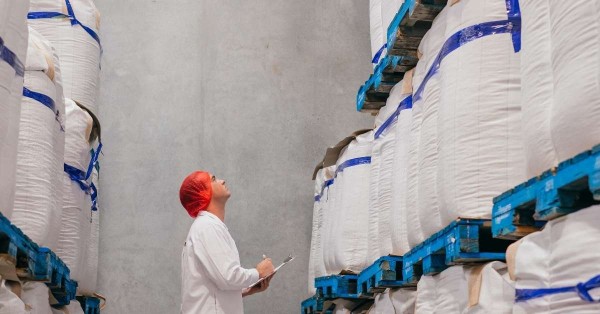 This roaster is the secret to the freshness and delicious flavour of Pic's Peanut Butter. The trip through the roaster takes 15–20 minutes, and while they're there, the peanuts are roasted at 150°C. Once they're perfectly roasted, the peanuts cool down and rest a wee bit before bouncing out the end of the roaster.
As the peanuts come down the conveyor, any bits of skin or peanut dust that's come loose during the roasting process is collected in a large box. At Pic's we hate wasting anything, so this goes to local farms for animal feed.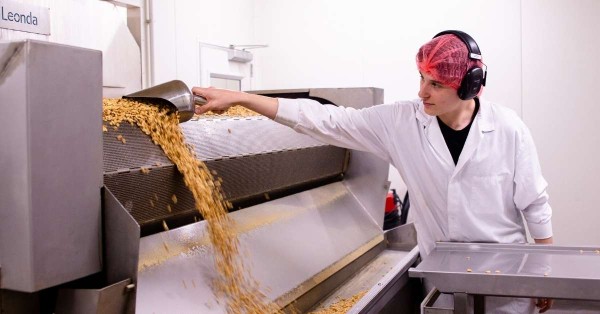 The peanuts then go for a bit of a ride through some see-through tubing down into the hopper and grinder room. As the name suggests, this room houses the hoppers that feed the peanuts into the grinders. Each hopper holds 4 tonnes of peanuts.
The roasted and rested peanuts are fed through the grinders and come out as perfect peanut butter. To make crunchy peanut butter they go through the grinder once, and to make smooth peanut butter all we do is send the crunchy stuff back through the grinder one more time!
Other than add some salt, that's all we do. We don't add crunchy pieces to make the crunchy more crunchy and we don't add any oil to make the smooth smoother. Speaking of salt, this is the point at which it gets added if we're making a salted peanut butter.
We add just 0.5 percent salt to our peanut butter, and we get our salt from Dominion Salt, New Zealand's own salt-refining company. Its salt is extracted from seawater at Lake Grassmere, on the Marlborough coast just 165 kilometres from Pic's factory, and at Mount Maunganui.
The freshly made peanut butter is then pumped down to the bottling line where it's pumped into newly sterilised glass jars. We've got three production lines for our peanut butter — line one and line two are identical and they only do the standard 380-gram glass jars.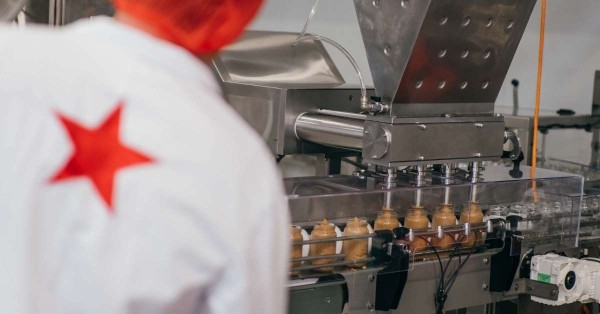 These lines are automated; the jars get filled four at a time, then travel along to another machine, which attaches their starry lids. (Pic originally chose to put a star on our jar lids to encourage people to reuse them, as he figured it would look good in people's pantries.)
After that, the jars get their tamper seals and labels put on before they're stacked into boxes and onto pallets ready to be shipped to their new homes. When we're filling jars with crunchy peanut butter, every single jar is then checked by hand.
That's because the crunchy can sometimes be a little naughty and form air bubbles. Smooth peanut butter, on the other hand, is very well-behaved so we don't have to check it for air bubbles! As well as checking each jar, our crew regularly does taste tests of each batch as it's being bottled, just to make sure that it measures up to our really good peanut butter expectations. Talk about a dream job for a peanut-butter-lover!
We also use the two automated lines to fill our export orders. These are all done in their own runs, as each country requires different labels and different barcodes.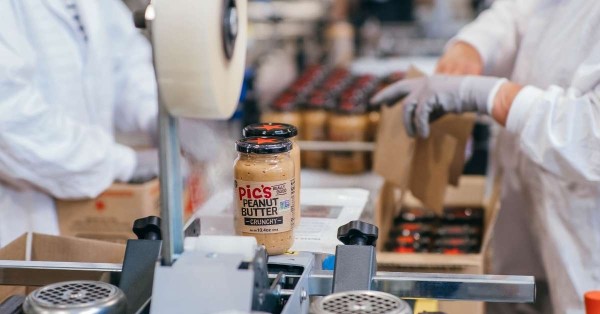 The third production line is where we fill all our 195-gram jars, 1-kilogram plastic tubs, and the big 2.3-kilogram buckets. These are all filled by hand by our amazingly skillful factory staff.
Alongside our factory housing the three main production lines, we have a second factory. There are big windows in the wall separating them so even though some of what goes on in factory two can be top-secret, people can always have a peep and see what's happening in there! This is where we make our almond butter, and our Vogel's Big Mix. In there, we still use an actual concrete mixer to blend some of our products — hey, why mess with perfection, right?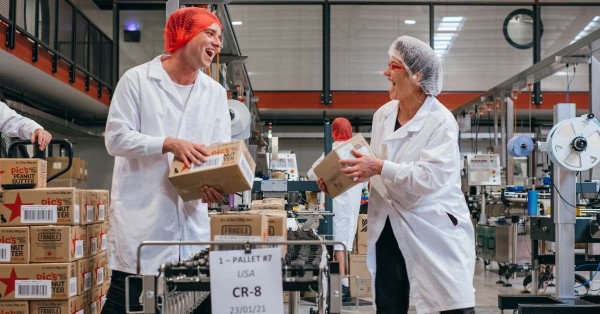 All the production in factory two is done by hand, from mixing the ingredients, to stacking jars, to filling jars, to putting jars into boxes. Once the jars are in boxes, they're stacked on pallets, ready to be sent off to some lucky customers!
Want to give peanut growing and peanut butter making a crack? Click here for some tips from the man himself
Why we roast our own peanuts
Ever since Pic first put a batch of peanuts in his oven at home, we've been keen on roasting our own peanuts. Roasting the peanuts gives them a lovely flavour and a crunchier texture, and while some peanut processors roast their nuts in oil, ours are dry-roasted by their good selves with nothing added.
Doing the roasting ourselves is what sets us apart from other peanut butter companies, who import their peanuts already roasted. By buying in blanched but unroasted peanuts, we get to control exactly how much roasting our precious peanuts get so that every jar of Pic's you buy should taste pretty similar to the one you've just finished.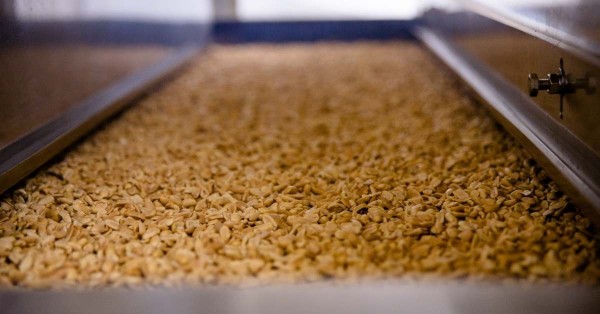 The other benefit of roasting the nuts ourselves is that it gives our products a longer shelf life than peanut butters made with nuts that have already been tasted when they arrive in the country. And our roasted peanuts taste really great, too!
The way we roast our nuts has changed hugely since Pic first bunged a tray of peanuts in the oven. Once oven trays had become too small for the amount of nuts he needed to roast to keep up with demand, Pic decided he needed something that would keep his peanuts moving as he roasted them in order to get an even cook on them.
When he couldn't find what he wanted in kitchen appliance shops, he turned to the big guns — the commercial equipment suppliers. That's how he found Abel Mixers in Westport. The company had been making concrete mixers since the 1960s, and it had developed exactly what Pic was looking for — a food-standard stainless steel concrete mixer, which had a gas burner under its bowl. This thing had the capacity to roast enough peanuts to fill 30 jars an hour, but it came at the hefty price of $7000.
Realising that he probably wasn't going to be able to keep roasting peanuts in his garage for too much longer, Pic got pneumatic tyres attached to the concrete mixer to make it easier to move. A month after he ordered it, the mixer arrived at Pic's place in Nelson.
After a bit of trial and error – and a batch of burnt peanuts that resulted in the fire service being called by his neighbours – Pic eventually got the hang of using it to roast his peanuts and was soon able to produce 60 jars in a morning.
The concrete mixer continued its roasting duty until Pic had upped his production and moved into his first factory in Elms Street in Stoke. From the concrete mixer, Pic upgraded to a 50-kilogram drum roaster that could be powered by electricity, gas or coal . . . Pic chose electricity.
The new roaster caused a lot of headaches, and after several efforts to reconfigure it, the decision was made to upgrade to a continuous roaster. It wouldn't be cheap, but at least it would be able to roast peanuts! After a trip to China to talk to the manufacturers, a $100,000 roaster capable of roasting 500 kilograms an hour arrived on the docks at Nelson, bound for the factory at Stoke.
Half a tonne of peanuts an hour through the roaster meant that the company could make 8000 jars a day — a figure that must have seemed unimaginable when Pic bought that first concrete mixer.
But bigger was still to come. In 2016, a South Australian engineering company heard that Pic's was looking to scale production up again, so they got in touch to say they could build us a machine that could roast 1 tonne of peanuts an hour — and use the same amount as power as the one we already had.
The deal was done, and we set about trying to find a name for this new machine that was about to become our pride and joy, the centrepiece of our factory. Running competitions to name things can be a risky business, but thankfully we didn't end up with a roaster called Roasty McRoastface.
Instead, we got our big, beautiful roaster called Roasting Matilda, as a nod to her Australian makers and the Australian peanuts she so carefully roasts. Matilda did her first day's work for us back in 2016 and she's been roasting peanuts happily ever since.
When you look at the huge machine that is Matilda, it's hard to imagine that she's replaced Pic's trusty concrete mixer in just 15 years. Who knows what we'll be using to do our roasting in another 15 years?
Actually, in early 2022 we've taken our roasting to a whole new level by powering Matilda by the sun! We've installed 486 solar panels on the roof of Peanut Butter World in sunny Nelson. The panels are supplied by Sunergy Solar and the move makes Pic's the first and only solar-powered peanut roastery in the country!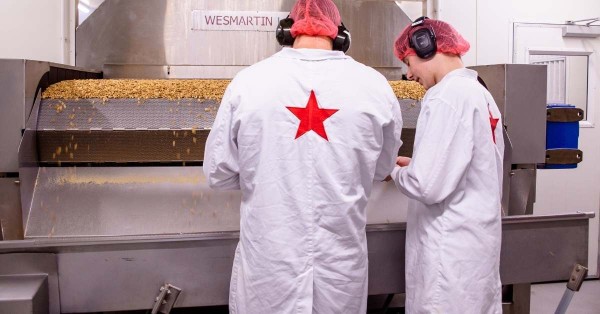 Our Peanut Butter comes in all shapes and sizes
Slugs, the take with you anywhere sachets of smooth goodness
The classic 380g glass jar is available in salted and unsalted
1KG PET, it's big and you'll normally find it on the bottom shelf at your supermarket
2KG glass jar, she's a rare one and in a wooden box! Only found at Peanut Butter World and NZ food shows
And buckets of the stuff! BUT, they're only on our website, at Pic's Peanut Butter World and in trade stores such as Trents or Gilmours
PIC'S IS WAY MORE THAN JUST SOME BREAKFAST SPREAD.
Bake with it - cakes, muffins, banana bread, cookies, slices...
Blend it in your morning smoothies
Drizzle over your oats, ice cream, or pancakes
The perfect base for a satay sauce
Check out our recipes for more delish Peanut Butter inspiration!
Pic's Peanut Butter Tips
Storage: Lid closed in the pantry
Care: MIX ME UP! Contains no emulsifiers - over time, peanut oil will head for the surface and peanuts will dive for the bottom.
Stir contents well before use
More awesome things about Pic's peanut butter