Background
Pic's likes to help out. Whether it's via our peanut growers, our local boysenberry farmers, or our Nelson-Tasman community, it's important for us that everything we put our name on goes beyond just being good on toast.
This is why we work with the award-winning Terry from Biohoney. Simply put, humans and the planet need bees. They play an essential part in our ecosystem, so we feel that anyone dedicating their life to feeding, housing and protecting our pollinating friends is alright by us.
Terry only works with master beekeepers, often second or third generation beekeeping guardians, doing beekeeping the right way. He scoured the South Island (home to Pic's Peanut Butter World in sunny Nelson) to find us something we'd be proud to put our name on.
Rata or clover?
Rata is our Master-Beekeeper's favourite honey, which is why you've probably never heard of it before. The Rata tree only flowers once every few years, making it one of New Zealand's rarest delicacies. This is one for the top shelves and those special treats.
Growing up, New Zealand's favourite honey was Clover. It was also Pic's favourite honey too, smeared on hot buttery toast made for him by his Mum. All our best farmland was planted in clover, and when walking across a paddock in bare feet one always had to be on the lookout for bees.
The rich, fruity clover honey was everybody's favourite back then. Like our peanut butter, our buttery clover honey tastes just like your childhood. Without the lab testing and big numbers, whatever they mean. It's just really good honey.
Ingredients
Honey. That's it.
We don't like the idea of mixing stuff together to make it fancier, we don't think you do either. It's what our bees like and our beekeepers do too. Our carefully procured honey is less processed, so retains more good enzymes than conventionally processed stuff. This helps support you and your tummy health.
Ultimately though, it was all about something that tastes really, really, good. We need it to fit in with the rest of our line-up of best-loved Kiwi spreads.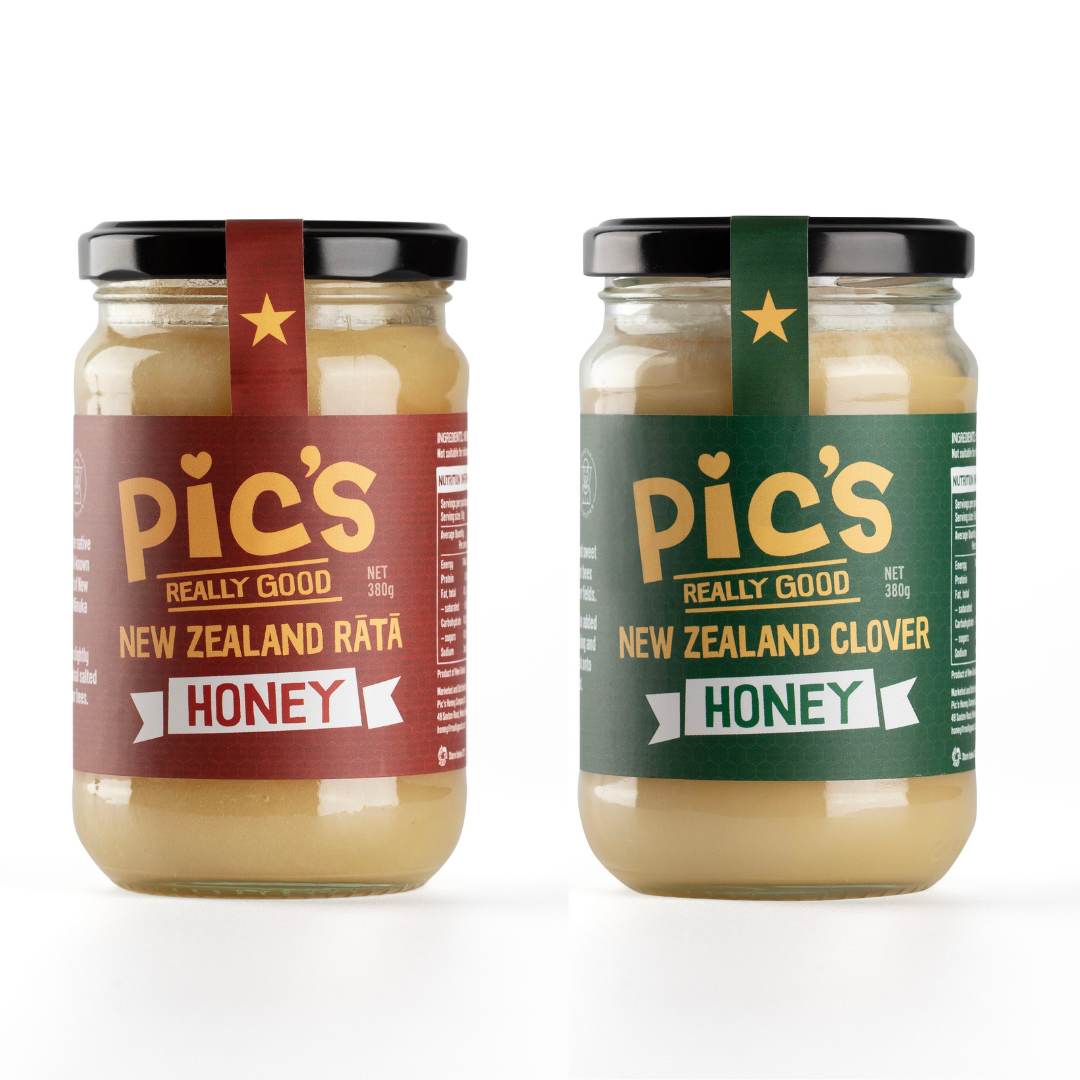 Make it more than just a spread
Stir it into a hot drink
Blend into a smoothie
Drizzle over pancakes or waffles