What are the Peanut Butter Makers doing messing around with berries?
Making jam, that's what - but we don't call it jam because it hasn't got enough sugar. What it has got though, is Boysenberries!
Background
Glen, from Tasman Bay Berries, grows boysenberries. Lots of boysenberries. In fact, Nelson is the boysenberry centre of the Universe. Glens farm is just down the road from Pic's Peanut Butter World in the heart of Stoke.
We are super lucky and get to eat them fresh in December; it's a Kiwi tradition of packing ice cream tubs full of juicy pick-your-own berries. But the rest of the world hardly ever sees them, which is a pity as they are extraordinarily nutritious and boysenberries go really well with peanut butter.
Ingredients
Boysenberry puree (grown in Nelson) 49%, Boysenberry concentrate 3%, cane sugar, lemon juice concentrate, gelling agent (pectin).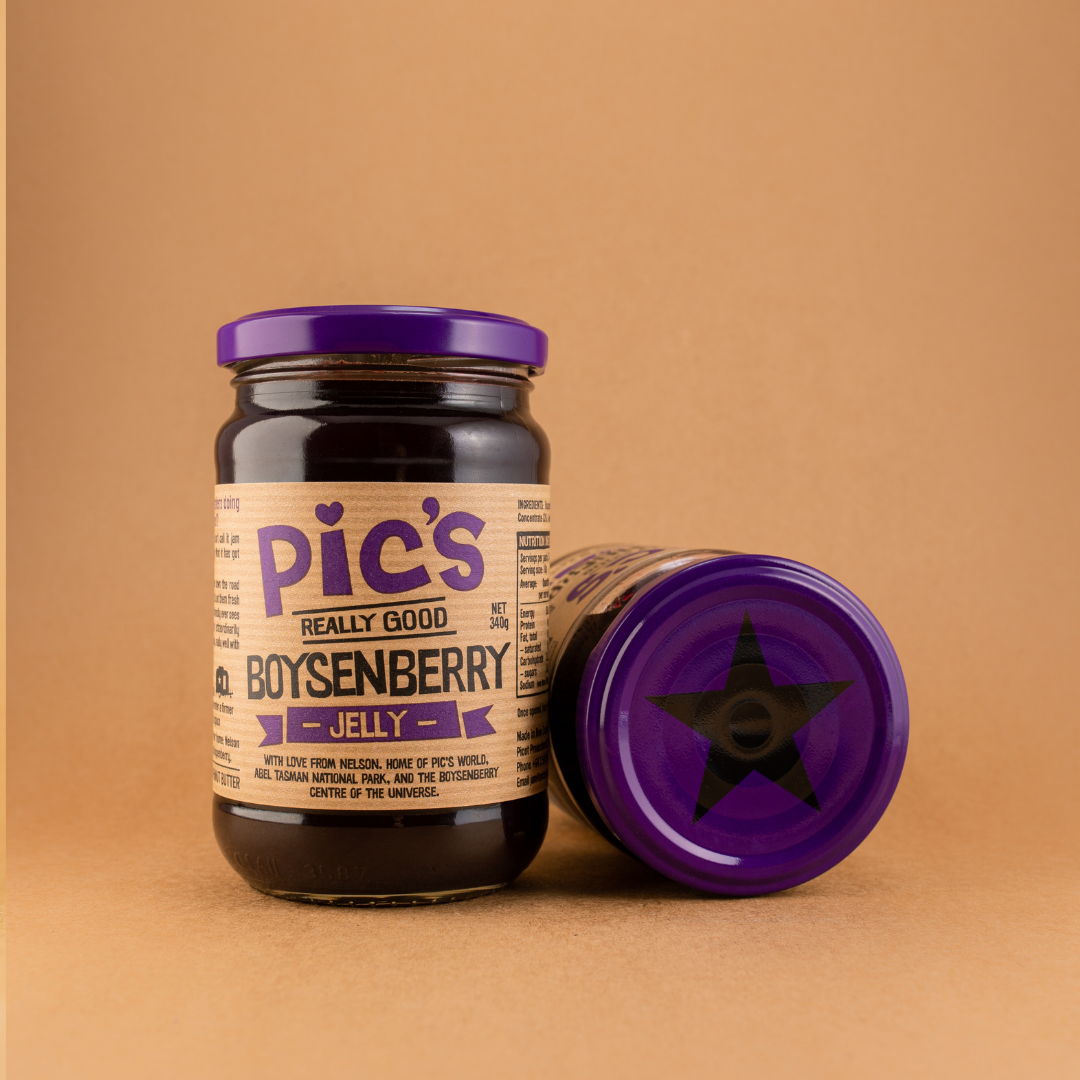 PIC'S IS WAY MORE THAN JUST SOME BREAKFAST SPREAD.
We all know Jelly pairs with Peanut Butter just beautifully and once you think of Pic's Boysenberry Jelly as an ingredient, a conserve or a chutney, then you'll be adding it to everything
The perfect yoghurt or ice cream topping
On a platter with cheese and crackers
Make it into a marinade
Mix it into a spritzer
Check out our recipes for more delish inspiration!
Pic's Boysenberry Jelly tips
Once opened, keep our jelly in the fridge
Stirring our jelly makes it runny. So if you prefer a firmer spread, scoop it out gently with a spoon.
Wondering where to find it in the supermarket? It's right there with all the jams!