Peanut & Chocolate Butter

Combining Whittaker's Creamy Milk and Dark Ghana Chocolate with our Hi Oleic crunchy peanuts, Pic's Peanut & Chocolate Butter was like a peanut slab in a jar. Delightful.
Unfortunately this wonderful spread is no longer available in New Zealand, having its final run in February 2022. Of course once part of the family, always part of the family. Peanut & Chocolate Butter lives on in our hearts!
The background (How we made it)
Pic doesn't eat chocolate. But everyone else here at Peanut Butter World does; which means statistically 98% of the company wanted chocolate peanut butter.
So he let us make one.
We stole Pic's original idea for his first roaster too. Our crunchy mix of peanuts and Whittaker's chocolate was tossed together in a concrete mixer before heading into the peanut butter grinder, for a one squish session.
NZ's favourite chocolate and our world-famous freshly roasted crunchy peanuts. Pic didn't sign it off. But we did.
Your Really Good Peanut Butter Makers.
INgredients
Ingredients: Peanuts (76%), Whittaker's Creamy Milk & Dark Chocolate (20%) (Cocoa Solids 8% (Cocoa Mass, Cocoa Butter)), Sugar, Milk Powder, Emulsifier (Soy Lecithin), Vanilla Flavour, Peanut Oil, Rapeseed Oil, Salt
Contains: Peanuts, Milk, Soy
May contain: Tree Nuts, Sesame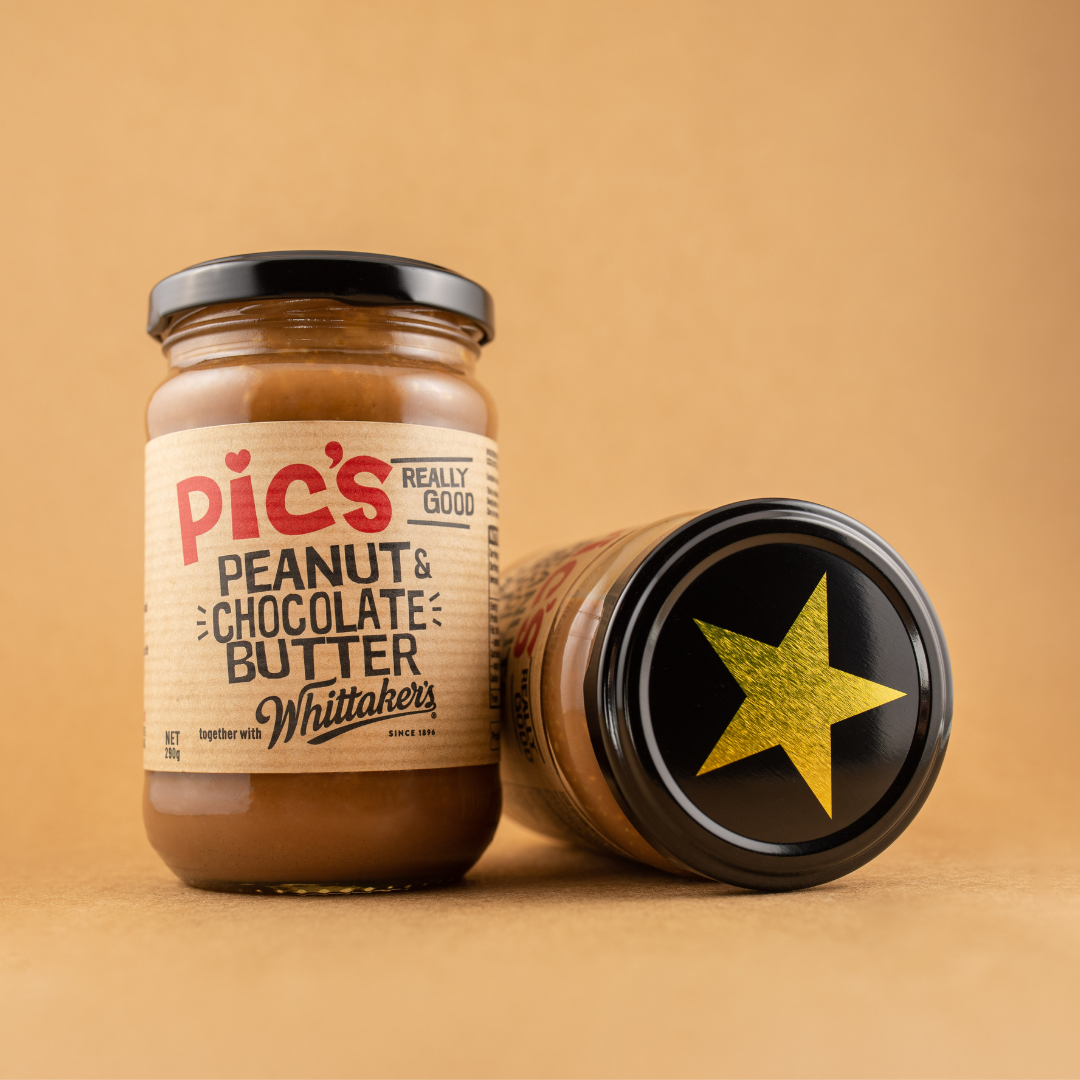 PIC'S IS WAY MORE THAN JUST SOME BREAKFAST SPREAD.
Once you think of Pic's Peanut & Chocolate Butter as an ingredient, a dip, a sauce... you've opened your mind up to a world of wonderous chocolatey things
Add it to a platter as a dip for fruit and vege
Blend it in a smoothie
Jazz up the sponge cake and use it as an icing
Bake muffins, brownies, cakes, the list goes on!
Check out our recipes for more delish inspiration and if you find a peanut butter recipe, be adventurous and switch it out for our chocolate one!
Pic's Peanut & Chocolate Butter tips
This is a natural product and might separate over time. Never fear! It's just the white cocoa butter cooling down, solidifying, and then rising to the surface to say hello. Warm it back up on hot toast or simply give it a good stir.
Store at room temperature out of direct sunlight.