Pic's & Friends Really Good Recipe Book
Fun and good eating for Picsters everywhere!
As well as offering a range of tasty peanut butter recipes, both sweet and savoury, this book tells stories about the early days, when Pic Picot made his own peanut butter in an adapted concrete mixer, through to the opening of Pic's Peanut Butter World in Stoke, Nelson.
There are many tales to be told. Read the story of Fido, Pic's seeing-eye dog; find out how to make your own peanut butter or even grow your own peanuts; and see if you can answer the questions in the Pic's quiz!
There are more than 60 enticing recipes provided by popular cooks from around the world who love Pic's Peanut Butter. From a simple banana and peanut butter smoothie bowl, to stir-fries, curries, and sweet treats that will have you rushing to the kitchen to try them out.
Don't open this book when you are hungry... or maybe you should?!
Click here to get your copy today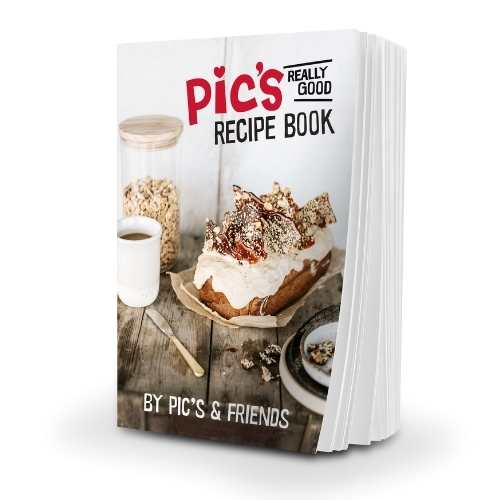 A word from Pic
Beloved Peanut Butter Lover
We know you love our nut butters so we hope that you'll also love this collection of gorgeous peanut butter recipes and good ideas, brought to you by our team and by many of our keenest followers from different parts of the world.
For years, people have been telling me that we ought to be making a Pic's satay sauce, or blend our good peanut butter with honey, or dates, or jam . . . or pretty much anything imaginable. One or two of these suggestions were horrible, some were quite good and a lot of them were amazing.
We flirted with chocolate peanut butter for a while there, and a few people thought it was nice and tried it with this and that, but they'd eat half of it then the rest of the jar would inch its way to the back of the pantry. Meanwhile, good old Crunchy (or Smooth) has never budged from the front row.
I love that we own that spot in the front of your pantry, so we elected to stick with what we are really good at — hunting down the world's best peanuts, freshly roasting them in our solar-powered oven right here in Nelson, then crushing them up while they are still warm.
So here it is . . . a treasure trove of ideas to help you get through twice as much peanut butter as you did before.
Pic Picot xx