NZ Homegrown Peanut Butter
The first four jars of Northland peanut butter
Having successfully grown our first peanuts in Northland, the 20 kilograms of harvested nuts were whisked down south to Nelson and entrusted into the care of our expert Peanut Butter Makers, who lovingly hand-shelled them.
As much as we love Roasting Matilda, our big roaster at Peanut Butter World, these precious nuts needed a slightly higher level of supervision during their roasting experience. Luckily for us, we had just the thing we needed around the corner at The Food Factory, so the nuts made the 280-metre journey to their final roasting
place. Having been roasted in an oven at The Food Factory, the nuts then got the full historic Pic's Peanut Butter treatment when they were squished in one of Pic's original peanut grinders.
After all that effort, we finally had our hands on four jars of historic no-salt, crunchy peanut butter! Then we were faced with the big question — what were we going to do with these jars of the country's rarest peanut butter?
With a unique piece of New Zealand food history on our hands, we came up with a plan...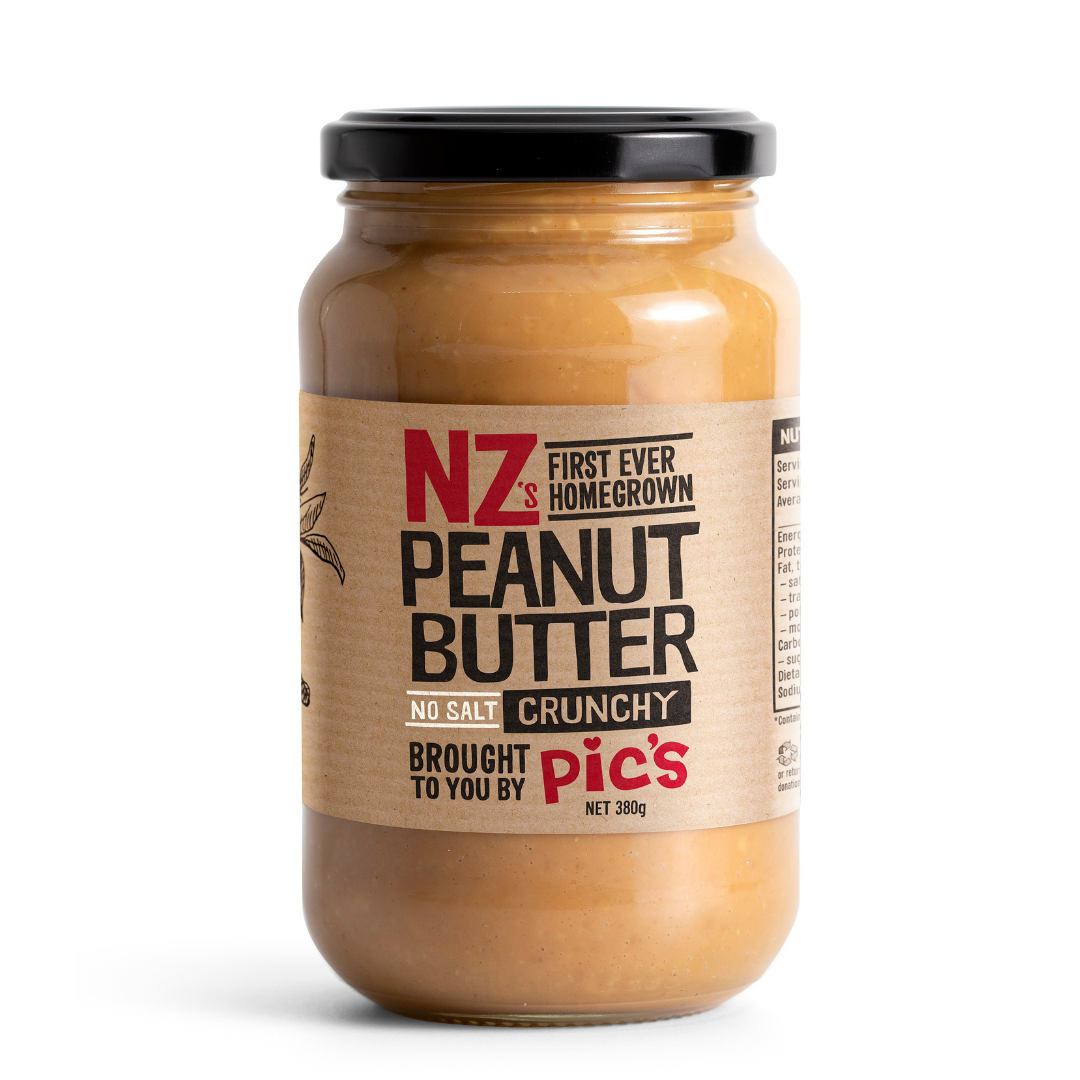 Jar ONE
Having been a Big Brothers Big Sisters mentor himself, Pic is always keen to help the organisation out whenever he can. What better way to make them some money and share their message than auction a jar of Northland's finest with the proceeds going to Big Brothers Big Sisters?
Well, there was one better way — auction a jar of Northland's finest with the proceeds going to Big Brothers Big Sisters in Northland. The jar was listed on Trade Me, and after attracting a massive 85 bids it eventually sold for a huge $3150. At just over $8.28 per gram, that's got to be Aotearoa's most expensive peanut butter ever!
As fans of round numbers, Pic's topped up the donation to Big Brothers Big Sisters Northland to an even $4000.
On Friday, the 26th of August, the auction winner, David, and his family (pictured) arrived at Peanut Butter World as special VIP guests for the day. We had the best time hosting them and showing them what we do here, and they even got to have a sneak peek of our 2022 harvest of NZ-grown peanuts being made into peanut butter over in the Food Factory! David and his wife officially presented the jar that evening at the Big Brothers Big Sisters charity dinner, and they now proudly display it in their home. We're immensely grateful for their support of Big Brothers Big Sisters New Zealand.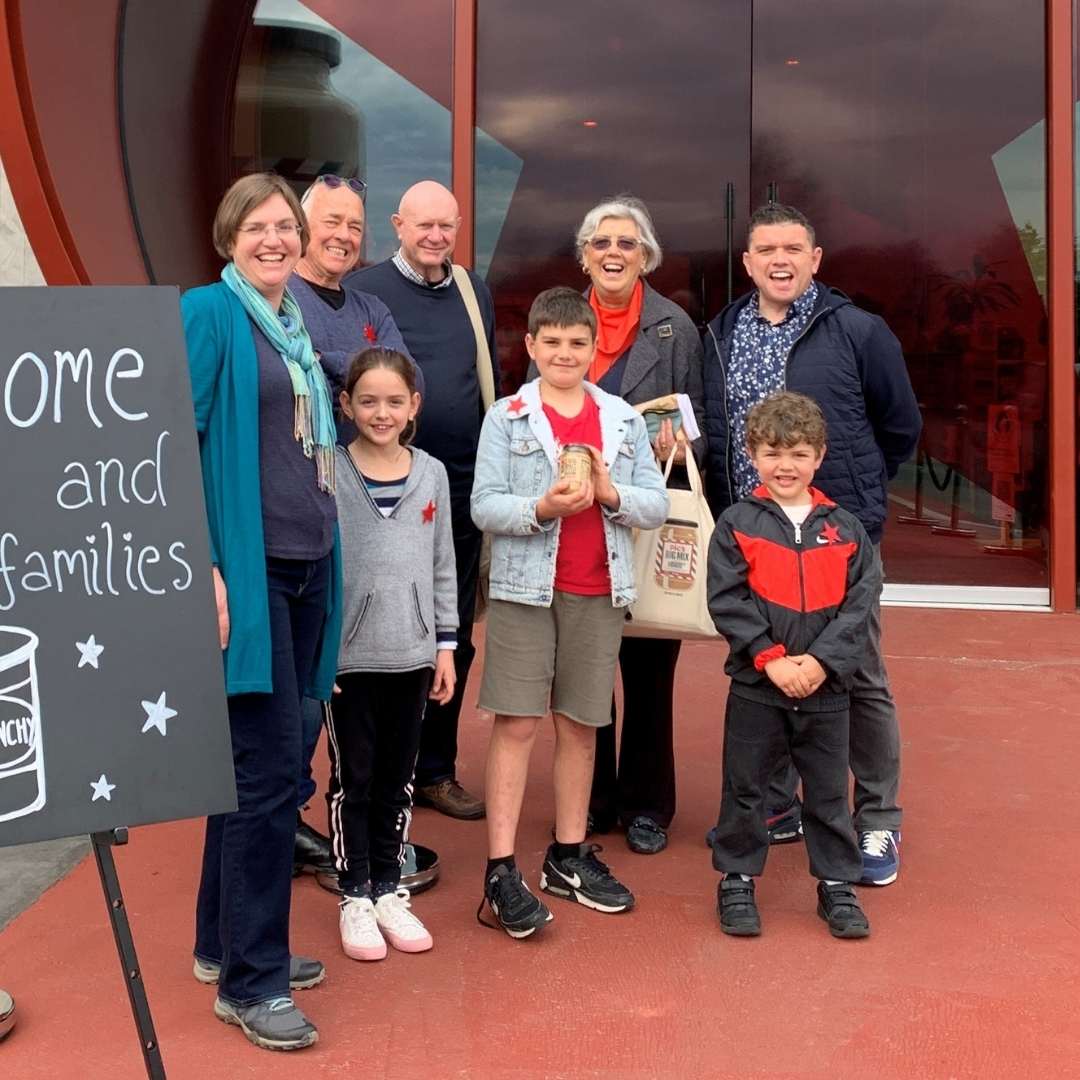 Jar TWO
With the first jar having found a new home, we embarked on a search for the new owner of jar two. We knew we wanted those tasty, treasured peanuts to go back home to Northland, so we did what we often do when we've got a burning question — we asked our team of Picsters! We told them we were searching for a Northland hero who deserved a jar of this country's rarest peanut butter — did they know of anyone who fitted the bill?
The Northland community is home to some absolute champions so the response we got was mind-blowing. One nomination, though, really struck a chord. It was from Ace Shattock, who told us that 'the biggest Northland hero at the moment would have to be Papa Honez One Whānau at a
Time for making sure families in need are housed and fed.' Through One Whānau at a Time, Hone and his wāhine Rachel distribute koha kai and household goods to anyone in need in the Far North. It was clear to us that Papa Hone's generosity and care for the Northland community had already moved mountains, so we were honoured to send one of our super-special jars of peanut butter his way along with a whole heap of peanut butter for him
to share.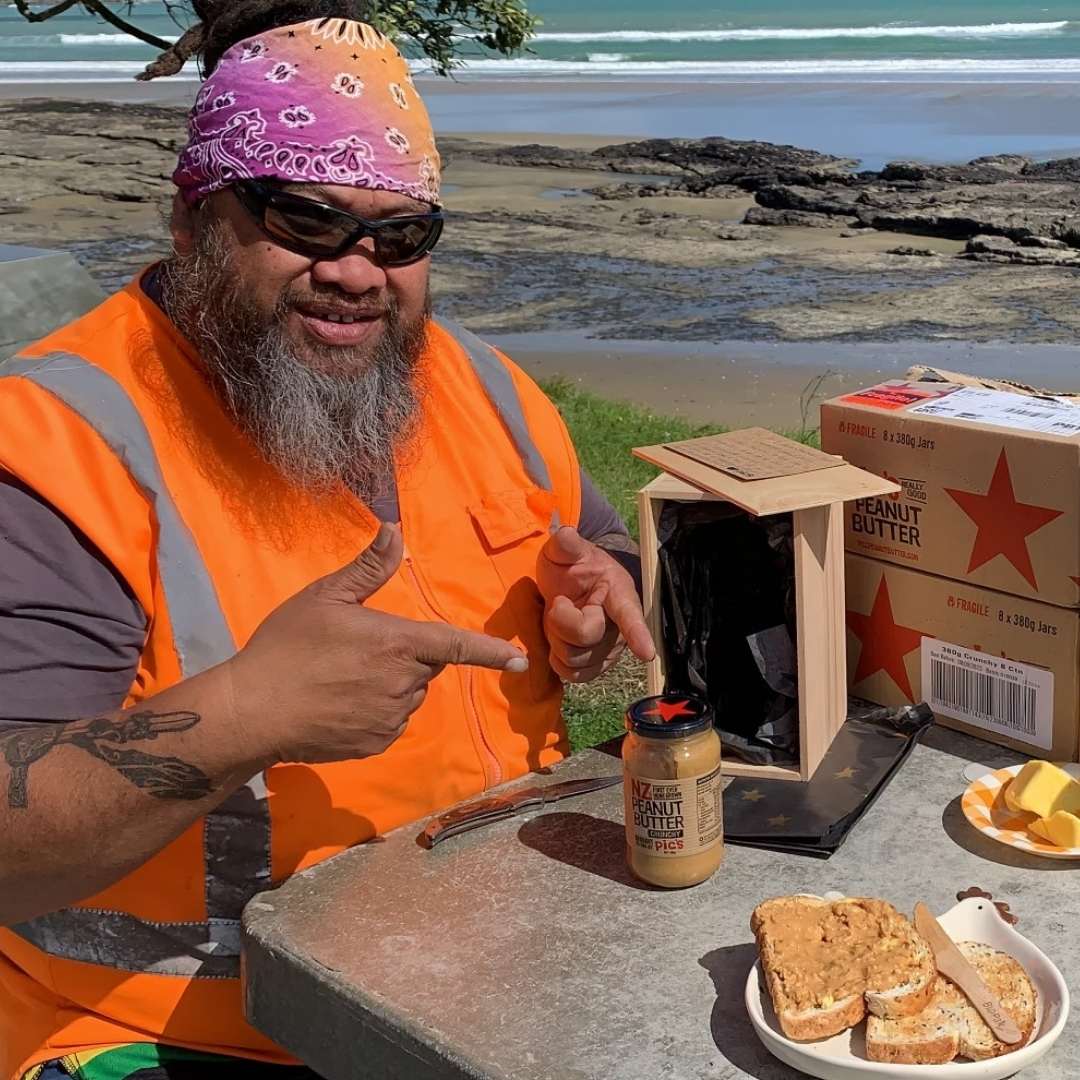 Jar Three
Given the historic nature of these jars of peanut butter, it seemed only logical to donate one to the place that stands as the kaitiaki of Nelson's story — Nelson Provincial Museum Pupuri Taonga o Te Tai Ao.
In doing so, Aotearoa's newest peanut butter went into the collection of its oldest museum! Committed to collecting 'history as it happens', the museum team was stoked to add our precious peanut butter to their collection. In fact, they've even used it as a springboard for developing a collection focused on our region's many excellent and innovative food-and-drink-related businesses.
It's pretty amazing that our jar of peanut butter will take its place in the museum's collections, and it'll be there for future generations to see and wonder about what this country was like before we grew all our own peanuts!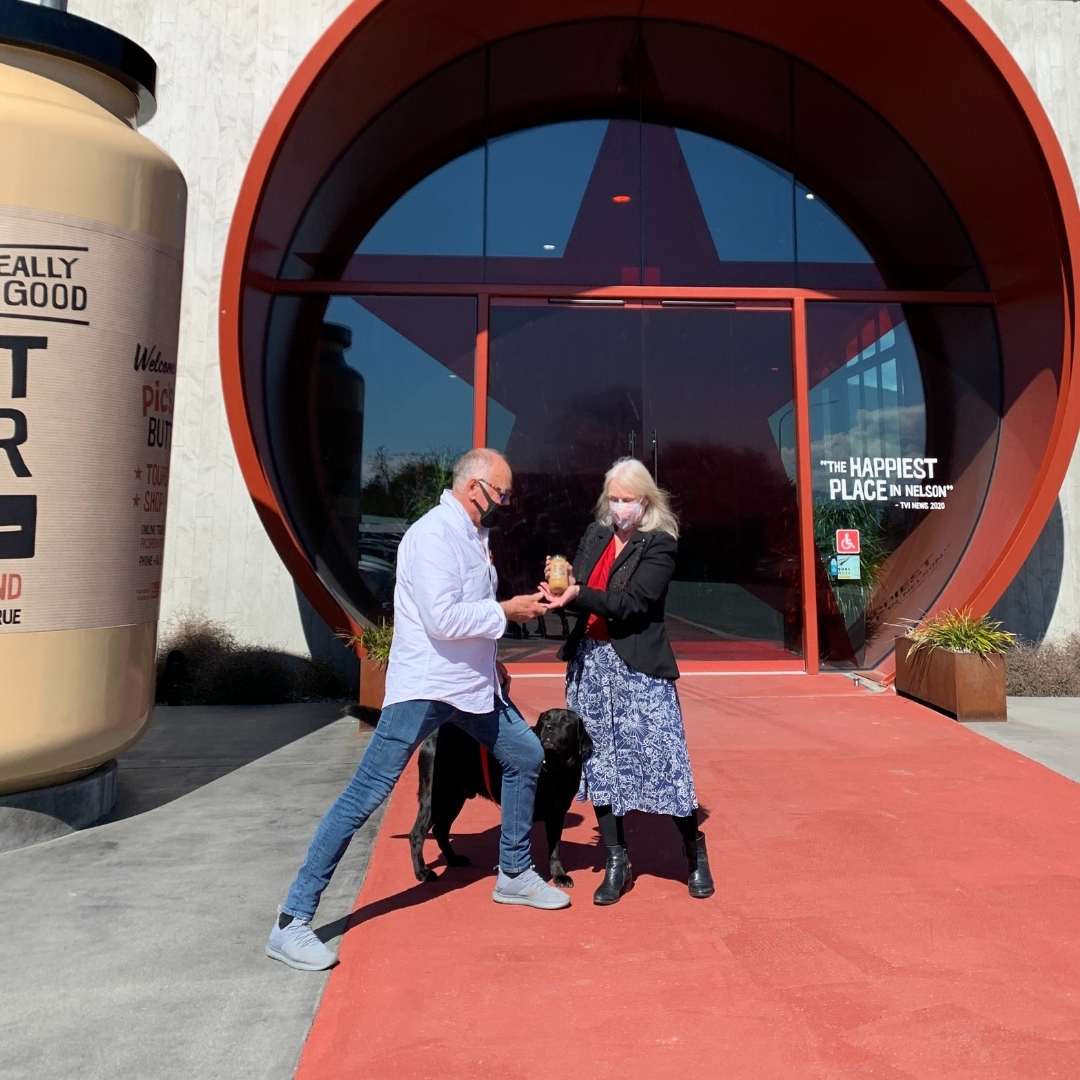 Jar four
You didn't think we were going to give all of the jars away, did you?
Of course, we're keeping one of them for ourselves. Well, not just for ourselves
because it is now on display in pride of place at Peanut Butter World. Come and see it for yourself!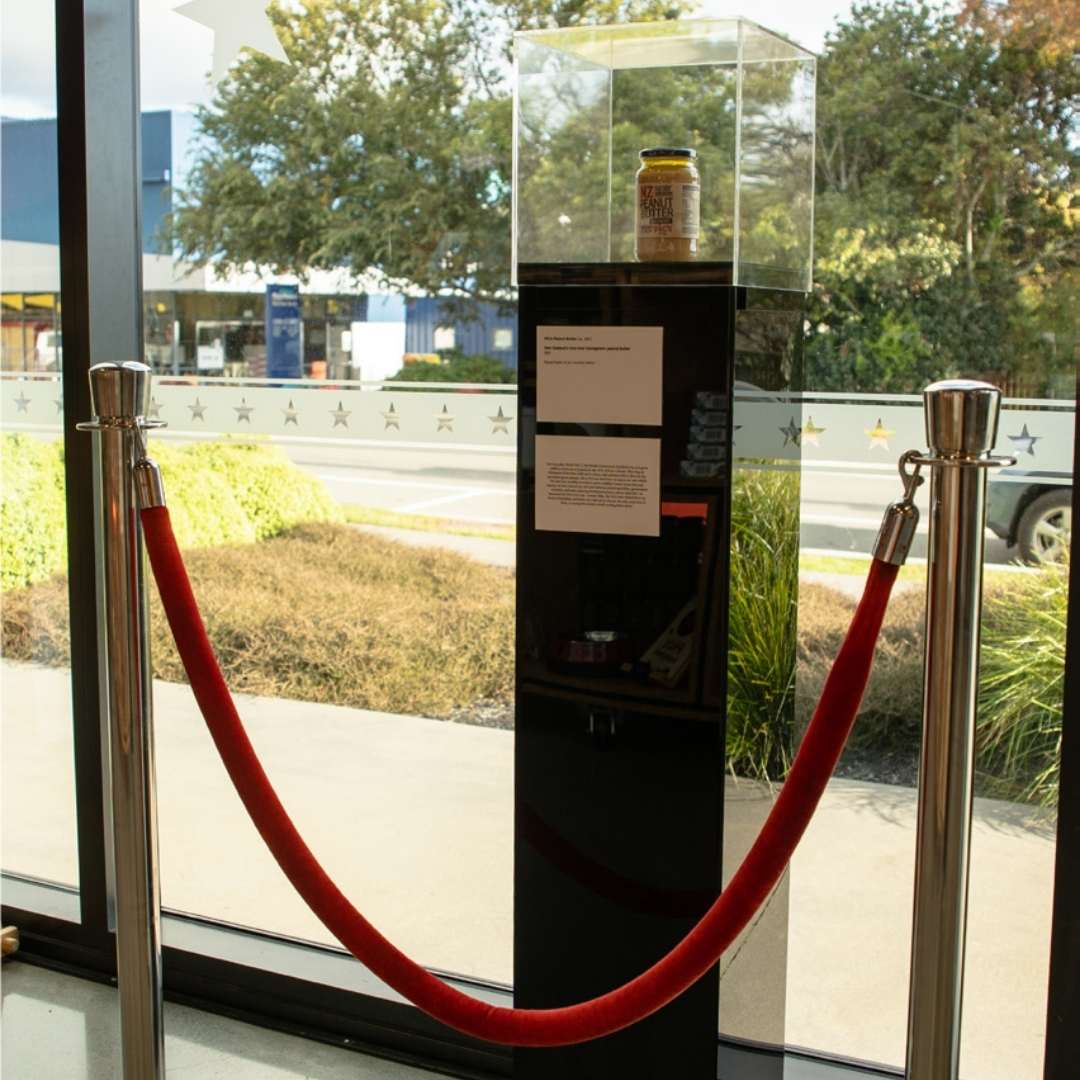 Growing peanuts in NOrthland, New Zeland
"I've always been keen to use peanuts grown here in our peanut butter. It's an exciting step to see this first crop in the jar," says Pic. "These trials have the potential to make a very real difference to our carbon footprint and redirect the millions of dollars we spend on imported nuts to Northland, easily my second favourite region of New Zealand."
In 2015, Pic's 'Big Toaster Tour' visited Dargaville en-route from Bluff to North Cape. Mr Picot says that he, his dog Fido, and Amy the peanut butter fairy received an unforgettable welcome.
"We were treated like long lost whānau," says Picot. "We got a lot of attention at local tourist attraction the Kumara Box, sold every last jar we had at the Friday market, and were presented with two 50-year-old cans of Toheroa Soup. I can think of nothing finer than to help the Northland community establish a new industry."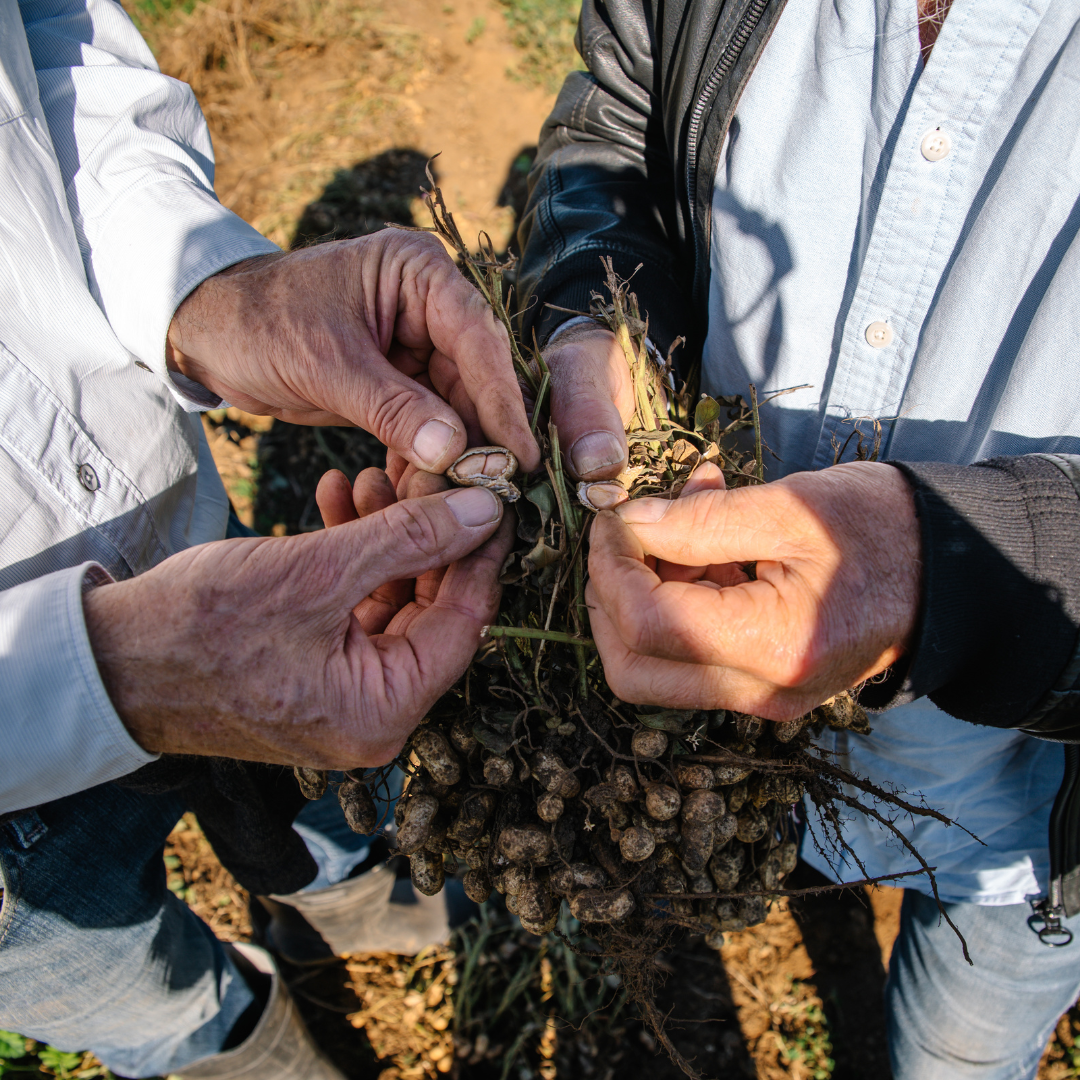 Picking peanuts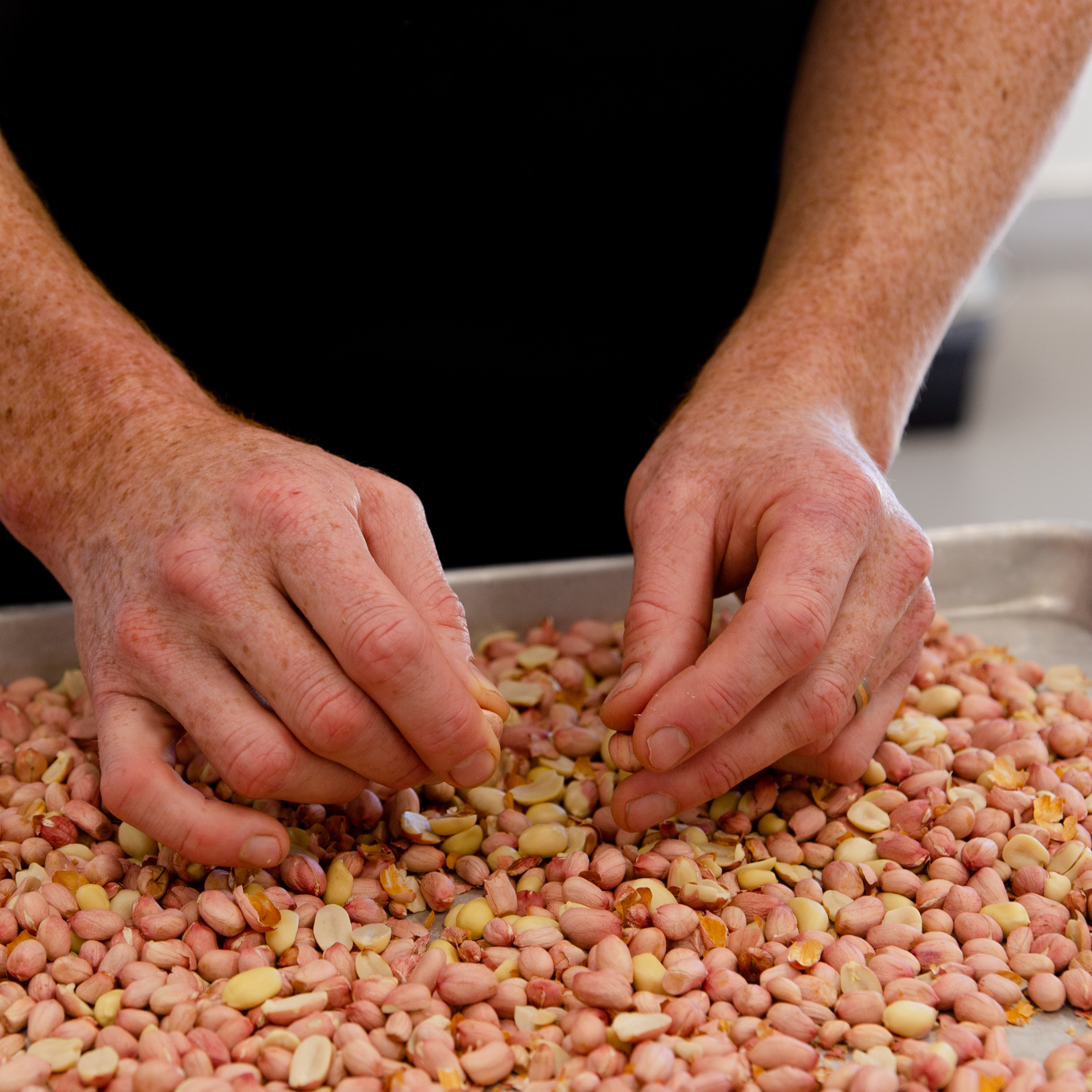 Deskinning the peanuts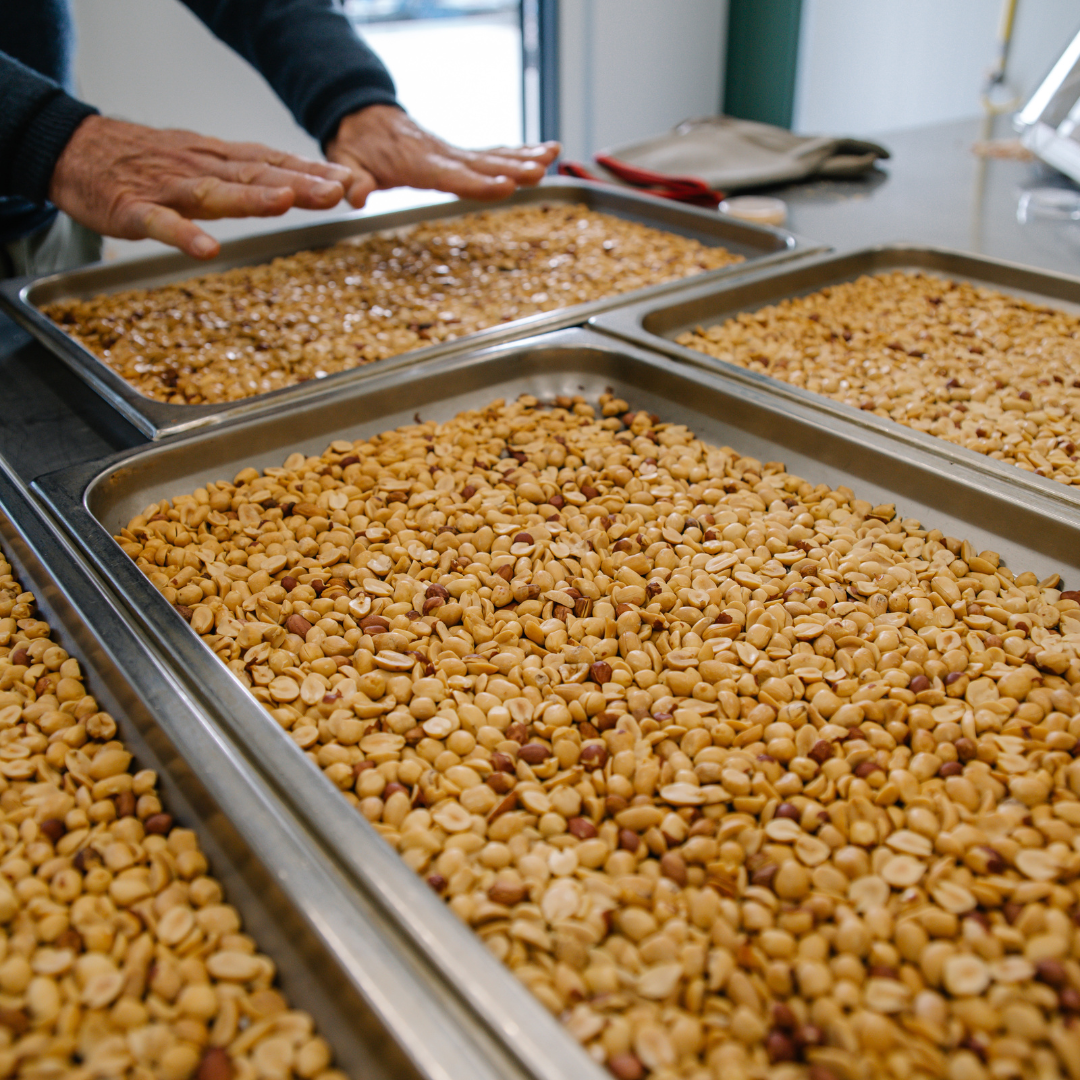 Freshly roasted
NORTHLAND PEANUTS
At Pic's, we're really excited about a project we've been working on up in Northland, which has the potential to make a huge change for good for the environment, New Zealand, and peanuts. Pic makes no secret of the fact that he's always wanted to see New Zealand–grown peanuts in our peanut butter. And it's fair to say that Pic has a habit of making his dreams become a reality.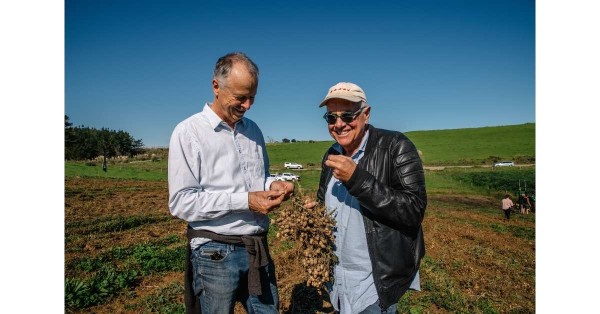 This is where the CEO of Pic's, Stuart Macintosh, comes in. Stuart had an old mate he'd studied with at Lincoln University by the name of Declan Graham, who happened to be Plant & Food Research's science business manager. One day, they got to talking about whether it would be possible to grow peanuts in New Zealand. That conversation grew legs and soon turned into a full-scale project to find out.
You can't just bring any old plants into New Zealand and start growing them, so the help of the Sustainable Food and Futures team at the Ministry of Primary Industries was enlisted, too.
Together, the team worked out that the best place to do trials is Northland, as it has the warm climate that peanuts need to grow. Pic readily admits that Northland is his second favourite place — after Nelson — in New Zealand. His love of the place came as a result of the time he spent there during his Big Toaster Tour in 2015.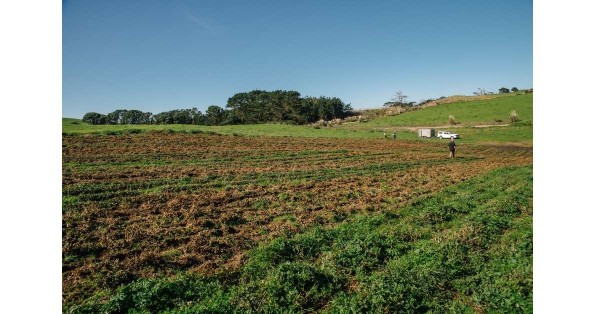 The welcome he received in Dargaville made such an impression that he's never forgotten it: 'We were treated like long-lost whānau. We got a lot of attention at local tourist attraction the Kumara Box, we sold every last jar at the Friday market and we were presented with two 50-year-old cans of toheroa soup. I can think of nothing finer than to help the Northland community establish a new industry.'
With the assistance of our international supply, agents Cannon Garth Hi Oleic peanut seed was initially sourced from Zambia, and more recently larger amounts from the International Crops Research Institute for the Semi-Arid Tropics (ICRISAT).
Plant & Food Research then undertook an in-depth analysis of the local soils and identified three areas they believed would be prime sites for growing peanuts, each with their own different soil types.
Late in October 2020, those pioneering seed peanuts were planted on a kūmara farm in Ruawai, on iwi land near Kai Iwi Lakes, and on a dairy farm out on the Pouto Peninsula. The three different locations gave us a chance to work out how the peanuts would grow in different environments.
The combined area planted across all three locations was a tiny 0.1 hectare. This doesn't sound like a lot, but a single hectare can produce up to seven tonnes of peanuts. The timing for the planting was critical, as peanuts need the soil temperature to be over 18 degrees for the whole four- to five-month growing cycle.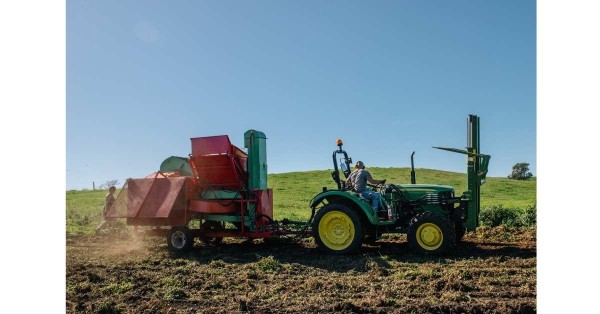 If they do take off, peanuts will make a great addition to Northland's agricultural landscape — like other legumes, they're renowned for restoring the soil and fixing nitrogen, so could be used in rotation with more traditional crops.
They also have the added benefit of requiring less water than many other crops. As Pic says, 'It has always felt a little weird to be making an iconic New Zealand product with imported ingredients. These trials have the potential to make a very real difference to our carbon footprint and redirect the millions of dollars we spend on imported nuts to Northland.'
After all the hard work of finding the best land, sourcing seed stock, and actually growing the peanuts, the trial produced 20 kilograms of peanuts. While this might not seem like a lot, the whole process has proved that peanuts can be grown here and thus has unlocked the potential for a whole new industry, which could benefit not only Northland but also the country, the climate, and the environment — so it's wins all around.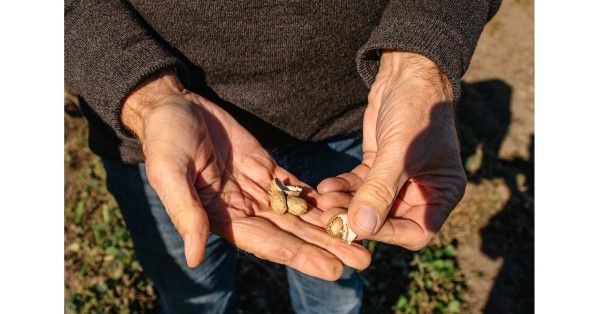 After the success of the 2020 harvest, and following a one-year feasibility study in 2021, we've scaled up to a two-year project. This is the first year of the $1 million project funded by Picot Productions, Ministry for Primary Industries' Sustainable Food and Fibre Futures fund and Northland Inc.
If the trial proves successful it would have significant positive impacts for the region — generating jobs both on- and off-farm, pumping funds into the local economy and supporting investment opportunities.
As of 2021, the trial is currently operational in five locations — two farms in Te Kōpuru, two on Māori land near Kai Iwi Lakes and Awanui, and one farm near Kaingaroa. The coming season will see the number of sites expand to seven across Northland.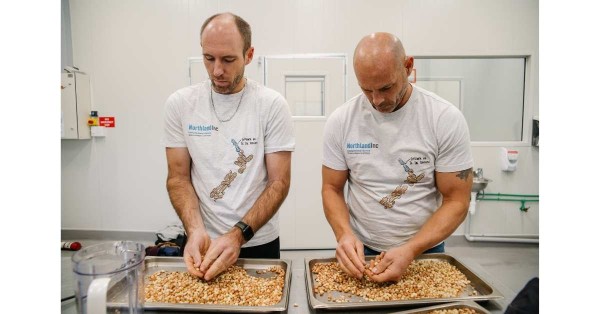 A sample harvest during the feasibility study in 2021 saw promising results and this year's crops have provided further information on the cultivars most suited for potential commercial viability in the Northland climate. Final results are due to be delivered in the coming months including an all-important taste test.
Pic is quietly confident that it's a step in the right direction towards fully homegrown peanut butter in the future. We are one of the few producers in New Zealand that freshly roasts our own peanuts, so to be able to source them from our own backyard would be the cherry on top.
Not to mention the huge positive impact it would have in reducing our carbon footprint. If we can pull this off and produce enough peanuts from Kiwi soil it'd make our peanut butter just that much peanut-better. Once harvest is complete the nuts will be tested for taste and quality. Those that make the grade will be roasted and crushed at Peanut Butter World in sunny Nelson before they're made into a very limited run of Pic's Peanut Butter. When run at scale the group behind the trial estimates crops could produce enough nuts for 4,500 jars of peanut butter per hectare, but the aim would be to double this to around 10,000 over time.
While Northland is more well-known as kumara country than peanut province at the minute, we're hopeful that won't be the case forever, ultimately the proof will be in the peanuts.
Big Brothers Big Sisters
Big Brothers Big Sisters is a nationwide charity, supporting whānau, families, and communities to help our young people thrive. Its aim is to make a positive difference in the lives of children and youth through professionally supported, mentoring relationships.
We raised $4,000 with the Trademe auction which was all donated to our good friends at Big Brother Big Sisters top of the North Branch in support of the fab region where these peanuts were grown. We also donated $50,000 to Big Brothers Big Sisters New Zealand as a result of our special label jars, which were for sale NZ-wide in August 2021.
"Big Brothers Big Sisters NZ love Pic's Peanut Butter – I mean we really love their Peanut Butter,'' says Big Brothers Big Sisters NZ CEO, Drew Ewan. We also feel very aligned with them – Pic's produce quality products that improve the lives of New Zealanders, and we at Big Brothers Big Sisters NZ provide a quality programme that improves the lives of young people and ignites their potential – and the assistance from Pic's Peanut Butter helps us do more of this. Through Pic's valuable support over many years, Big Brothers Big Sisters is able to reach many more young people. So when people buy Pic's Peanut Butter products, they are also helping the young people of Aotearoa through the Big Brothers Big Sisters Programme."