With its rich soil, endless hours of sunshine and resourceful people, Nelson has become one of this country's food-producing superstars. The place punches well above its weight when it comes to making delicious things for people all over the country to eat and drink.
However, the process of turning an idea into a delicious product is not always an easy one — and that's where The Food Factory comes in.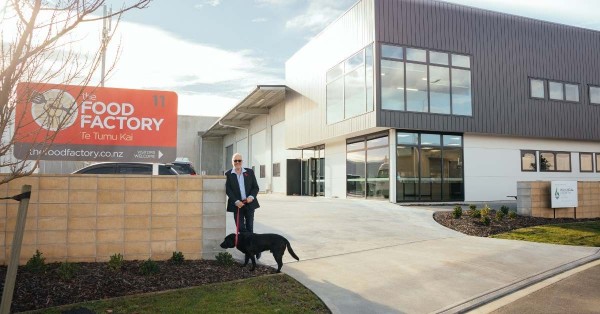 Back when Pic was faced with the need to upscale his business from his garage and his kitchen, he found it pretty tough to secure foodsafe premises where he could make as much peanut butter as he needed and could also play around with developing new products.
What would have made it all easier, Pic thought, was if he'd had a group of like-minded people around him, like he'd had at Parnell Workshops back in the 1980s. Parnell Workshops was a collective of makers who shared a warehouse space in Auckland and began to share skills, ideas, equipment and drinks on Friday nights.
As the owner of a company that started in his garage and has gone on to much, much bigger things, Pic has learned plenty about food manufacturing and plenty of other things along the way.
He's always been happy to share this knowledge with other people who are somewhere along the path towards creating their own food or drink brands. But he got to thinking what if there was somewhere in Nelson that provided the same support and camaraderie that the Parnell Workshops had given him? And as there wasn't, Pic decided to create one.
In 2019, his proposal for the establishment of a collaborative kitchen facility won funding from the government's Provincial Growth Fund, which helped pay for the conversion of a warehouse right next to Peanut Butter World.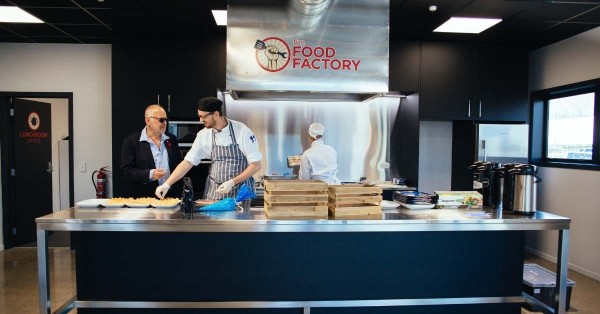 The not-for-profit Food Factory opened in June 2020, with four commercial kitchens designed for food manufacturing, along with most of the equipment you might need to create new products, a demonstration kitchen where up to 30 people can watch as you cook up a storm, freezers, chillers and warehouse space, and a room with a great big kitchen table where coffee, ideas, problems, product samples and laughs are shared.
Even better, space can be hired for as little or as much time as you need. It's the perfect — and affordable — place for food entrepreneurs to develop new products, refine their processing methods and manage upscaling without having to spend the money to set up commercial kitchens themselves.
The Food Factory is now recognised as a Charitable Trust and is guided by some incredibly knowledgeable, experienced and well-connected trustees, who can offer experience, knowledge, contacts and mentoring.
They are, Julian Raine from Oaklands Milk, Aunt Jeans Dairy and Appleby Farm Ice Cream, Pip Jamieson from Nelson City Council, Grant Kerr (ex NMIT Executive Director), Lou Smith — Pic's trusty Executive Assistant, and, of course, Pic himself.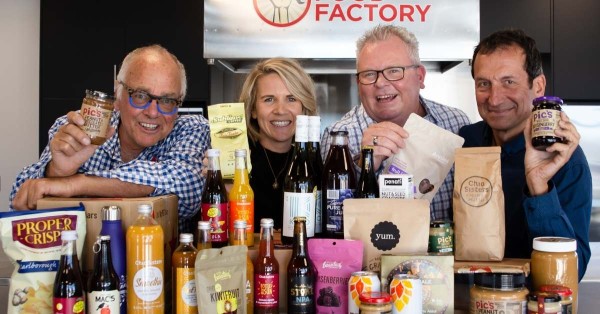 One Nelson food company making the most of what The Food Factory offers is Yum Granola, which creates delicious granola from organic ingredients. They're all about maximising flavour and nutrients while minimising their impact on the environment, something they have in common with Pic's!
The Yum team has been an anchor tenant at The Food Factory since November 2021, and Yum's director of deliciousness, Sarah Hedger, says the shift there was an easy choice. They'd been looking for a year to find a new space and the place was purpose-built for what they were doing.
'The space is great but the location lends to collaboration and more relationships with people who are doing what we're doing. To have Lou and Pic there as support has been amazing. There's so much wisdom in that man that any time you can gain a little bit of it is so helpful!'
The flipside of all of this is that Sarah is able to provide advice and insights from her experience of setting up Yum for other people at the Food Factory who aren't quite so far into the manufacturing process.
Working collaboratively with other factory users comes about naturally, too. 'Lucy and her organic vege boxes are amazing. Tuesdays and Wednesdays I get so hungry as her veges are just so beautiful.' The upshot of this is that Yum is planning to send out samples of granola with Lucy's Fresh2U vege boxes.
As well as businesses, The Food Factory also provides space for organisations such as BellyFul, which cooks meals there, and Kai with Love, which has used the space to turn excess cream into butter for its food parcels.
Meanwhile, the demonstration kitchen is the perfect space for Multicultural Nelson Tasman to hold their regular Multicultural Kai and Kōrero Classes, which focus on a different country's cuisine each time.
In the short time that the Food Factory has been operating, the impact it's had on the lives of the people using it and those who benefit from what is made there has been huge – just as Pic had hoped it would be. And we used the demonstration kitchen to create and capture the recipes in our fabulous recipe book!